Road trip from Cusco to the Amazon
My wife Malka, and many other Peruvians for that matter, had always been at pains to tell me the horror stories that were produced by the drive from Cusco to the Amazon, or more accurately, Puerto Maldonado not so many years ago before the latest road was built.
"It took us a week and we got washed down-river twice" "We got stranded on a sandbank for 10 hours", "One of our party got eaten by a Puma", OK that last one I made up!…but when you drive the route you can imagine what it must have been like when the road was just mud and gravel with VERY steep drops and could take up to 10 days to complete in the rainy season. In stark contrast, the plane takes just 25 minutes as it drops off the Andes.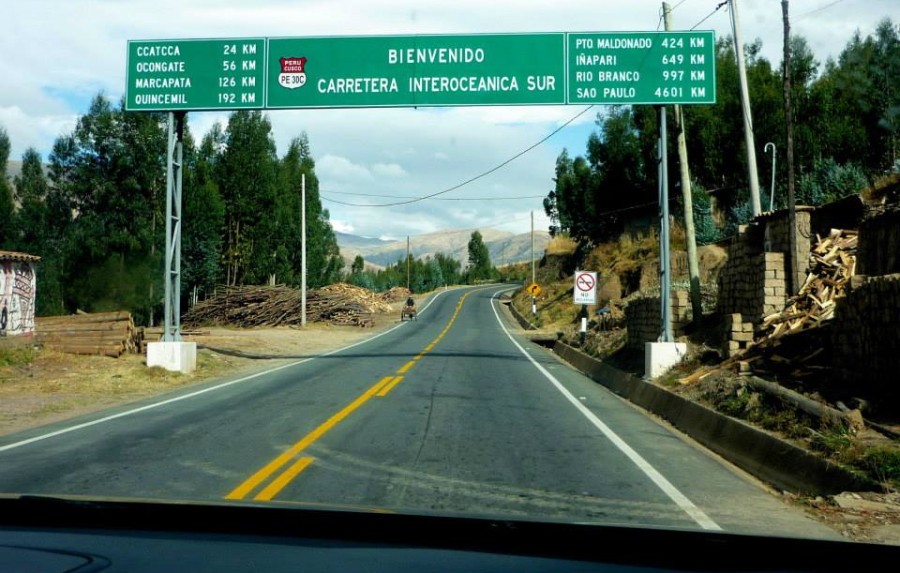 Now with the new toll road the journey takes between 9 and 10 hours, today it might not be life-threatening, but what an epic trip it is. Peru is a mega-diverse country and this road offers you almost all of its ecosystems (minus those related to the desert coast of course). The pass at the highest point of the road is 4750 meters, and Puerto Maldonado is at 139 meters, so a four and a half kilometer vertical drop in your car.
Since a visit to some Amazon lodges to check on upgrades was overdue, plus Cusco was very cold, we decided we would drive down and try a spectacular section of the new Interoceanic Highway. This highway, a collection of different roads across the continent, allows you to drive from the Pacific in Peru to the Atlantic in Brazil.
The drive from Cusco to the Amazon starts along the road that runs to Puno but after 45 minutes or so you reach a turn-off for jungle destinations, and Sao Paulo as you can see on the signpost above. Some at 4601 km distant. Luckily our destination is listed at just 424 KM, which is still many hours drive away due to the constant switchbacks and probably many bizarre obstacles.
The climb up to the first pass at over 4000 meters is lovely, with great views of the village of Urcos far below and the surrounding mountains. When you cross this first pass you get your first look at the majestic Ausangate mountain standing at 6384 meters, or 20944 feet above sea level. This mountain was a god or "Apu" for the Incas and was greatly revered by them, and has you can see in the photos it is a great stretch of snow-capped peaks.
When you drop down into the valleys that come before the highest pass there are many people wearing traditional costumes, the Ocongate area in particular is great for seeing very large, colorful, circular hats. You always see people dressed like this in Cusco and are tempted to think that they are just doing it for tourists, and they may well be sometimes, but passing through Ocongate you can see that they actually dress like this during a normal day.
After climbing up a few hundred meters to the highest point at 4750 meters, the endless, winding roads begin in earnest and you drop very sharply through high, barren plains to reach the lush cloud forest. On this descent you pass through Maracapata which is famous for its hot springs, feel free to have a dip, your arms might need it after the switchbacks.
The lower slopes of the Andes have a great amount of rainfall deposited on them as clouds billow up from the Amazon and empty their contents. The vegetation, which appears to be endless hills of huge broccoli, is very dense indeed and the diversity of animal and plant life is the richest on the planet.
Facebook album of the Amazon road trip.
After winding down the mountain for 3 hours or so the landscape begins to open up as you leave the high Andes and enter the foothills of this huge mountain range, the valleys start to open and you can see for some distance across forests and fields. There has been a fair bit of cultivation along the roadside and plenty of fruit is being sold at road-side stalls and huge trucks wind their way uphill to Cusco and Lima with the goods. Informal gold mining has greatly damaged this area and, although you can't see the damage from the road itself, a look at Google Earth will show you it clearly. Two hours or so from Maldonado there are several "villages" have grown up to support this activity, these villages are pretty ugly but in any case, they add to the interest of driving this route.
The last two hours to Puerto Maldonado are flat-ish and very hot. Both sides of the road have been cleared for farming, there are plenty of Zebu cattle in evidence in the fields, farms, crops, etc and it is difficult to imagine that just 10 km further in you will find virgin Amazon Rainforest only accessible via the river system, this is where tourists go, enjoying rustic lodges built along the Tambopata and Madre de Dios rivers.
Nine hours after leaving Cusco you arrive in the ramshackle town of Puerto Maldonado. This town of 80,000 people is pretty typical of jungle towns in Latin America, hordes of people hurtling around on motorbikes, lots of wooden structures, and bad roads. The end of this section of road could be considered the Billinghurst bridge, the largest bridge in Peru at 750 meters long and completed in 2012 after the usual nonsense of poor construction techniques and under budgeting. If you were minded to you could continue another 3 hours to the Brazilian border, and drive for days to reach the Atlantic.
We parked up at one of our supplier's offices and took their boat out to visit several jungle lodges, the exhilarating feeling of being amongst such rich vegetation, animal and insect life never gets old. We love to come back time and time again. Driving nine hours there and nine hours back a week later was obviously much more work than the 25 minutes in the air, but we would do it again no question!