Galapagos Cruises + Combos with Ecuador & Peru
At first glance, Galapagos cruises seem complicated. There are so many options, islands, routes, and dates to decide on when visiting this amazing place. Don't get confused by the myriad of information online just have a look at the questions below and give us your answers. Then let us make the planning simple for you.
Note: We plan around your dates, we can move the cruise section within your package to make the logistics work perfectly. We help you find dates where flights are cheaper, then plan the rest around that. Value for money!
Choose the size of the vessel?
Large vessel = 80+ clients | More stable in the water, more facilities and larger common areas, better for children. Larger range of cabins and more space generally. Greater chance of finding space for your dates.
Small vessel = 15 - 30 clients | Feels more intimate and exclusive. There will be fewer people on excursions and at mealtimes. Can sail closer to certain islands.
There are mid-sized vessels that are a compromise between these two extremes of course, but let us know which way you are leaning to help us plan for you.
Then decide on how long to travel?
3 nights / 4 days is the minimum you need on a cruise, but 4 nights / 5 days is much better giving you a more complete experience similar to the one we detail below. A week-long cruise means you get a very complete look at the islands.
We recommend 2 nights in Quito to start the tour. You then have the chance to sightsee in the Ecuadorian capital and have a "buffer" if your international flight is delayed.
On the way home, or onto another tour destination, we may book you through Guayaquil as it sometimes offers good logistical connections.
There are two considerations here; Weather and Wildlife.
Weather: 
With Ecuador being located on the Equator the temperature does not vary all that much, i.e. a range of 65 - 85°F (18 - 29°C) throughout the year. December to May could be termed the wet season, which is warmer with more potential rain showers. June to November should be considered the dry season and is cooler and drier.
Wildlife:
Before reviewing the Galapagos wildlife calendar, know that most of the animals are visible year-round. Birdwatchers will be treated to sightings of both great and magnificent frigatebirds throughout the year, together with flightless cormorants, Galapagos doves, greater flamingos along with Nazca, red-footed, masked and blue-footed boobies. Year-round land species include lava lizards, giant tortoises, and both land and marine iguanas, while sea lions and fur seals can be seen basking along the shoreline and tropical fish, sharks, rays and sea turtles can be spotted just below the water's surface.
January
The start of the rainy season sees marine iguanas ignite in bright colors and green sea turtles arriving to lay their eggs on the beach, while land birds begin nesting.
February
A rise in sea temperatures is accompanied by the start of the nesting season for flamingos, together with marine iguanas on Santa Cruz. Galapagos doves can be seen courting, while black-tailed pintails also begin breeding.
March
March sees frequent downpours at the peak of the rainy season, with the arrival of the waved albatross to Española towards the end of the month and marine iguanas can be observed nesting on Fernandina.
April
The impressive courtship of the waved albatross is on display together with the mating rituals of frigatebirds, while green sea turtle and land iguana eggs begin hatching on Isabela.
May
The courtship rituals of North Seymour's blue-footed boobies can be observed, while the waved albatross begin laying their eggs on Española. Green sea turtles can be seen hatching at Gardner Bay, Punta Cormorant and Puerto Egas.
June
The courtship rituals of North Seymour's blue-footed boobies can be witnessed, while waved albatross begin laying their eggs on Española. Green sea turtles can be seen emerging from their eggs at Gardner Bay, Punta Cormorant and Puerto Egas.
July
Seabird colonies are alive with courtship rituals, egg-brooding and the feeding of chicks, while flightless cormorants on Fernandina are particularly impressive. Lava lizards begin their mating rituals and both whales and dolphins are often spotted off the west coast of Isabela.
August
Galapagos hawks begin courting; Nazca boobies and swallow-tailed gulls are nesting, while giant tortoises begin their journey back into the highlands. Sea lions begin to give birth to pups and the sea currents are at their strongest, with ocean temperatures falling to around 18°C.
September
The peak of the cold season sees Galapagos sea lions at their most active, with males barking and fighting over females, while most seabirds are still busy nesting and feeding chicks.
October
Galapagos fur seals begin mating as lava herons start nest building, while blue-footed boobies can be seen rearing their chicks on Española and Isabela.
November
As the seas begin to calm and water temperatures rise, snorkelers can get up close to sea lion pups and enjoy excellent visibility. Brown noddies start breeding and storm petrels can be seen nesting on Genovesa.
December
Giant tortoise eggs begin hatching and green sea turtles are mating, while waved albatross chicks start to fledge.
We will provide you with a complete package, customized to your wishes and budget. That might be Quito & Galapagos only or a full South America tour including other destinations such as Machu Picchu for example.
Included: Transfers | Galapagos Flights | Guiding and lectures | Tours & expeditions | Full board and meals while on the cruise | Other flights, hotels, and services included in your package.
Extra Activities: Some may require extra payment, some options will be cruise specific.
Glass-bottomed boat rides | Snorkelling | Kayak | Scuba diving | Mountain biking | Hiking | Dinghy rides | Internet access.
You can choose from a wide variety of yachts and cabin types to suit your budget, add extra time in Ecuador, and perhaps a combo trip including Peru and Machu Picchu?
Below is a sample itinerary for 4 nights / 5 days in the Galapagos. Remember there are many different routes and yacht types that can be matched to your dates. This program is just to give you a general idea.
Day 1 | From Ecuador to the Galapagos
To join our Galapagos cruises or hotel-based tours you will be flying out of either Quito or Guayaquil, the second city. You will arrive in the Galapagos Islands after two and a half hours onboard. Passengers are met and picked up at the airport by the naturalist guides and taken on a short bus and ferry ride to the pier to board your yacht.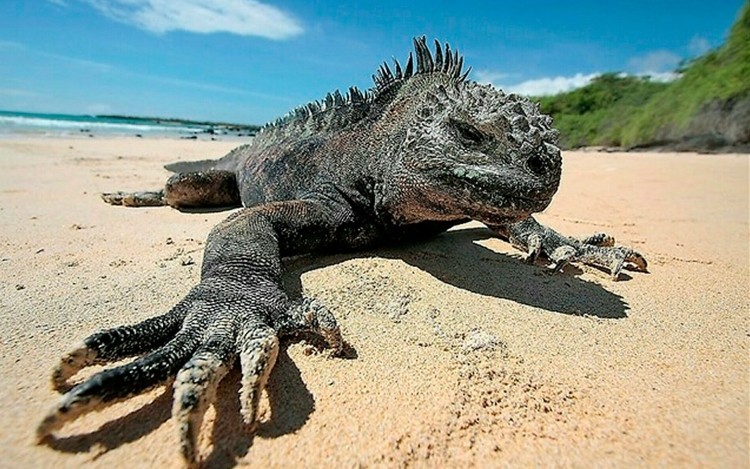 Bartolomé: This is the first visit and we will have a dry landing at this location. Today we will be enjoying the moonscape formed by the different volcanic cones, lava flows, and other volcanic phenomena during a short hike to the summit from where we can enjoy impressive views of the surrounding islands and Pinnacle Rock. You should also encounter plenty of marine iguanas, some lava lizards, and also certain endemic plants such as Tiquilla shrubbery, lava cacti, Scalesia trees, etc. Time spent at the beach sites is also a great opportunity to snorkel and see, and sometimes, swim with Galapagos penguins, sea turtles, and maybe white-tipped reef sharks as well as a great variety of colorful fish schools.
Day 2 | Urbina Bay (Isabela)
This excursion is a wet landing on a volcanic "black" beach. Depending on the season you may be able to witness giant tortoises wandering about, some land iguanas, and the unique flightless cormorant. After your short walk, we give you some snorkeling time allowing giving you yet another chance to swim with sea turtles, sea lions, and countless tropical fish.
Fernandina (Espinosa Point): Dry landing this time. The largest, most primitive-looking race of Marine Iguanas will be seen mingling with plenty of Sea lions and Sally Lightfoot Crabs. Today is also a great opportunity to encounter flightless Cormorants in their nesting areas, plus the famous Galapagos Penguins and the King of Galapagos Island predators, the Galapagos Hawk. Vegetation is scarce on this island due to the extensive volcanic activity but we will see Brachycereus cacti and extensive mangrove beds along the shores.
Day 3 | Santiago (Egas Port)
This morning we will have a wet landing on a beach of dark volcanic sand. Visited by Darwin in 1835, the unique, truly striking layered terrain of Santiago's shores is home to a variety of resident and migrant birds, including the bizarre yellow-crowned night heron and an astounding array of marine wildlife including lobster, starfish and marine iguanas grazing on algae beds alongside Sally light-foot crabs. Colonies of endemic fur seals swimming in cool water pools formed by volcanic rocks. Snorkeling here offers rarities such as octopus or squid.
Rábida (Jervis): Wet landing. Dark-red sand covers these unique beaches; Rábida is considered the epicenter of the Galapagos Islands due to the diversity of its volcanic geology. Nesting brown pelicans are found from July through September and nine species of the famous Darwin's finches can be seen. We will also take a dinghy ride along cliffs to observe nesting seabirds and snorkel off the coast, where marine life is particularly active.
Day 4 | Sunday – on Santa Cruz
All of our Galapagos cruises visit the Galapagos giant tortoise breeding program and have the opportunity to meet sadly departed Lonesome George´s relatives, symbols of our efforts to preserve the fragile Galapagos environment. Admire a prickly-pear cactus forest and a variety Darwin's finches and other land birds.  You will also have some free time to visit the town and shop for souvenirs.
Santa Cruz (Highlands): Travel by bus to Cerro Chato in the highlands of Santa Cruz, where giant tortoises are found in their natural habitat. Visitors can enter and explore large lava tubes.
Day 5 | Santa Cruz and end of Galapagos cruise
Wet landing on the north side of Santa Cruz; find sea birds, marine iguanas, and sea turtles on a lovely white-sand beach; swimming and snorkeling are great fun. Return to your yacht, check out and transfer to Baltra Airport.
You will then board your return flight to Quito or Guayaquil depending on your onward plans. Remember that the Galapagos is easily combined with other South America visits. A very popular tour is our Galapagos and Machu Picchu combo, click here to read about this amazing tour and its highlights.