Camino Real | 4-Day Trekking Adventure
This Panama jungle expedition is for fit and active people who really want to get off the beaten track in the jungle, experiencing the infamous but historic Camino Real route forged hundreds of years ago by Spanish conquistadors. Travel by road, boat, and foot from the Pacific to Atlantic Oceans, exploring the cobblestoned colonial road through the pristine rainforests of both the Chagres & Portobelo National Parks.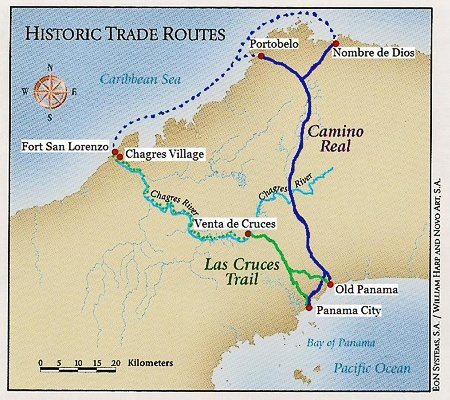 Camino Real
This originally torturous route was used by endless mule caravans carrying around 200 tons of silver mined and stolen from Peru and Bolivia each year until the source started to dry up. As a consequence of this flow of goods, the trading port of Portobelo at the route's end attracted many infamous pirates and privateers – and now you!
Note: This adventure requires some specific items to be packed and carried, so we will give you a checklist when helping you to plan. It is also important to make sure your travel insurance is up to date and covers overland expeditions and adventure sports. You will most likely sleep in hammocks while in the deepest part of the jungle.
Expedition Overview
This three-day hiking adventure has an expedition type feeling to it and requires guests to be in good physical condition with well broken-in boots. We will have an in-depth briefing the day before departure, when we will explain many details of the trip into the jungle, regarding animals we might meet, safety, and also what to carry. In an operation similar to many famous treks, like the Inca Trail, for example, the trekker carries his or her day pack, while the tent, food, and extra personal belongings are carried by porters – up to 15 pounds per person are allowed.
The environment is the main challenge during this hike, not the altitude as it would be in many parts of Latin America. The humidity and the temperature of this tropical climate will sap your strength so plenty of liquids will be carried. To experience this trek is to experience how the Spanish colonists and characters like Francis Drake would have struggled without any modern clothing or equipment.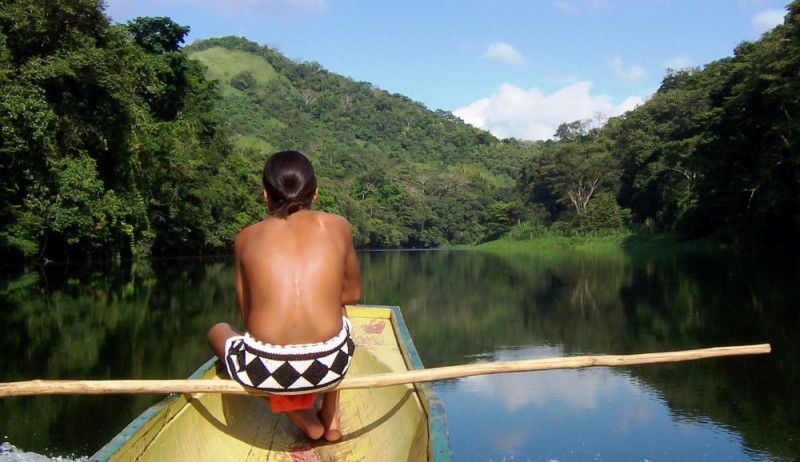 Day 1 | Leave the Metropolis for the great outdoors
We will pick you up from your hotel in Panama City, after an earlier than normal breakfast. We will set off in our private van and drive out into the countryside headed for the village of Boqueron Arriba. This rustic settlement, north of Lake Alajuela, is located in one of the most important areas of the Panama Canal watershed. We will drive for around two hours and along the way, road surfaces change from asphalt to dirt road until finally, normal wheeled vehicles cannot continue anymore.
Here we will organize our kit and make a short hike up to a ridge close to the Boqueron River. Here we will find archeological evidence of the ancient Camino Real. Our adventure today sees us follow the ancient route and will involve around 8 Km (5 miles) of hiking in mixed-use land on the edges of the jungle until we arrive at the small village of Santa Librada. Along the way, we will learn about farming in this area and the crops and fruit on hand. Arriving in Santa Librada we will camp for the night, so we get busy on arrival with making camp and enjoying our evening meal, sharing the impressions of what we have seen today under the incredible ceiling of stars in the night sky.
Day 2 | Deeper into the Jungle!
After breakfast, we will begin our journey hiking through farmland and some scattered rustic settlements. Slowly the farms and agricultural land start to give way to areas with less manmade influence until we reach the protected rainforest of the Chagres National Park. We will crisscross the Boqueron River a number of times on our route today, making rest and photo stops to marvel at the natural landscapes as well as learning about the history, especially where there are tangible signs of the original Camino Real path. As we walk you will gradually be adjusting to the heat and humidity of the tropical jungle and become more comfortable. Feel free to take a dip in some of the crystal-like pools that form along the river bends to refresh yourself during the day.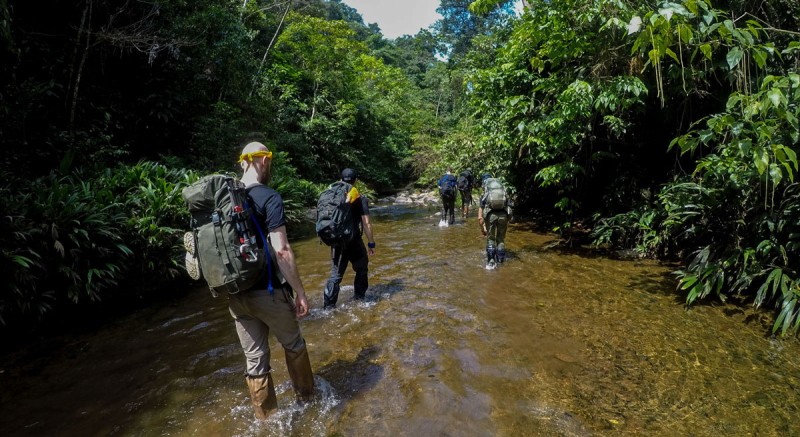 In this part of the world it is typically very sunny in the morning and then overcast, but hot, in the afternoon and maybe a few rain showers that last just a few minutes. So you will need to be prepared for getting wet on this trip, your feet will be protected by your boots but your feet will get wet from fording streams and shallow sections of the river, as you can see in the photo above.
After 10 Km (6 miles) of hiking, we will arrive at an idyllic clearing in the jungle where the river splits and forms three small waterfalls and little pools flanked by an inviting beach. This lovely spot has been named "Ambush falls" and we will camp here for tonight. We can dump our gear here and take a look around the local area for evidence of the Camino Real and after jump into the pools to rest our tired bodies. An evening meal under the stars, accompanied by the Pirate's favorite drink of rum, is one of the best ways to round off the day.
Day 3 | Deeper yet!
The next morning we will have a hearty breakfast to give us the fuel required to hike through the densest and trickiest part of the jungle route. Surrounded by pristine forest, loaded with many birds, insects, and other animal species, our adventure will continue on foot for several hours with regular breaks and snacks. We will climb to a ridge and traverse the pass that the Spaniards would have crossed centuries ago carrying their precious cargo of silver and gold. By late afternoon we will reach our camping spot for the last time, and spend the last hours before turning in telling stories of the Spaniards and pirates before retiring for some well-deserved shut-eye.
Note: Before or after the trek, we can make a visit to a traditional Embera village so you can get to know a little about these indigenous people who have lived in the jungle for thousands of years.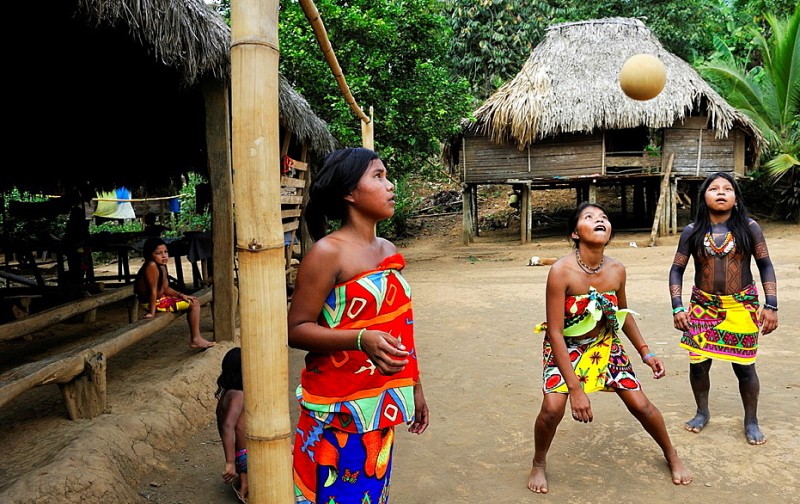 Day 4 | Reaching the Carribean
The fourth and last day of our trek is easier than the previous days as the countryside opens up and the jungle recedes. After breakfast, we will head off on the last 13 Km (8 miles) of the route that leads us to the outskirts of the town of Portobelo. Here we enjoy a great lunch, accompanied by a well-received cold beer. We can shower here if you wish and enjoy the change into dry street clothes for our ride back to Panama City. Other excursions can be added here as we have mentioned, and extra days in Portobelo or on the beaches are popular.
Add time in Portobelo | Caribbean islands and beaches?
Spend some extra time enjoying this historic and quaint place by adding a night or two in the small town before heading back to Panama City. Ask us about the costs and logistics of this option. Take your time to explore the beaches and small islands in the area, fully decompress at the end of your Panama jungle expedition. Why not continue your adventure by adding some time in Costa Rica next door?
Included: Jungle guides and assistants, roundtrip private transfer, lunches, dinners, and breakfasts while on the trek, porters for expedition equipment (personal gear is carried by you, or hire an extra porter) jungle hammocks; safety satellite monitoring services.
Not included: Snacks, meals not specified, tips, travel insurance.