Machu Picchu & Colca Canyon highlights:
Condor spotting in Colca Canyon, one of the deepest canyons in the world, plus the world-famous highlights of southern Peru; Cusco and Machu Picchu.
Lima city tour, explore the "City of Kings"
Lima Pisco and Gastronomy experience
Two visits to the Inca citadel of Machu Picchu
Enjoy Imperial Cusco and the Sacred Valley of the Incas
Condor spotting in the Colca Canyon + City of Arequipa
Wide choice of hotel levels, train services, and tour options
Flexible dates, go and come back any day you like
Full package, flights, hotels, tours and other services
10 Day Colca Canyon Tour from US$ 1795 per person
Day 1 | Lima "City of Kings"
Your Machu Picchu and Colca Canyon tour starts with your arrival at Lima airport where we welcome you to Peru and transfer you to your chosen hotel in the Miraflores or Barranco areas of the "City of Kings".
Depending on your arrival time we might be able to fit some visits in today but if not just enjoy the rest of the day as free time to wander the parks and browse the shops, and enjoy the world-renowned Peruvian food.
Day 2 | Lima City Tour
Today you will be collected from your hotel for a full or half-day tour of Colonial and Modern Lima. You visit Lima Cathedral and the Church and Convent of San Francisco, among other places of interest. After lunch, which we can arrange for you if you wish, you have a large number of options and could choose to visit a museum, such as the excellent Larco Herrera for example, the Gold Museum or the National Museum.
Peruvian Gastronomy Option: Many of our clients are enjoying adding this to their day in Lima, click the link to see all the details. If you book this within our package it will cost you less, so just ask us to include it.
The evening could continue with a visit to the spectacular Fountain Park in the center of Lima. It can be a very full day of sightseeing in this bustling, historic metropolis if you wish. We custom-design everything to your wishes.
Day 3 | Cusco City Tour
This morning you will be taken to Lima airport for your short flight to Cusco. Upon arrival in Cusco, we will meet you and transfer you to your chosen hotel.
Cusco is the jewel in the crown of Peru and your time spent here will never be forgotten. In the afternoon you will enjoy a Cusco City Tour visiting the Inca fortress of Sacsayhuaman plus the three other smaller Inca ruins nearby; Cusco Cathedral in the main square; and the most important temple of the Inca Empire, the Coricancha, the Inca Temple of the Sun.
Later in the day, you will enjoy a Cusco City Tour visiting the Inca fortress of Sacsayhuaman, plus three other smaller Inca ruins close to Cusco; Cusco Cathedral in the main square; and the most important temple of the Inca Empire, Coricancha, the Inca Temple of the Sun.
Cusco is a lovely city to wander around and you should take time to do this when not being guided. Make sure you walk around the San Blas district.
Video of Saqsaywaman Fortress + Perfect Inca Wall
Day 4 | Sacred Valley of the Incas
This is a Sacred Valley tour option that includes a visit to Chinchero, an ancient village where much of its original character and traditions have been maintained. We will often use this route on shared tours to avoid many of the crowds in the Pisaq area. Also, your tour to the Sacred Valley of the Incas includes a buffet lunch so you can recharge your batteries along the way.
Today's first destination is Chinchero, a quaint little town that houses an important Inca archaeological center, built at the end of the 1400s, as well as a lovely and very traditional church. You will visit "Urpi" a famous textile center where the townsfolk have preserved the traditional Andean spinning and weaving techniques, they will also show you how they get the vivid natural colors for their fabrics. On our way to Ollantaytambo, we will stop at the lookout point of Racchi, where we will have the chance to have some of the best views of the Sacred Valley, after that, lunch will be served in a local restaurant.
Afterward, we will get to Ollantaytambo, one of the most monumental architectural complexes of the ancient Inca Empire, one of the few places where the Spanish conquistadors lost a major battle. Very well known for its "Andenes" (terraces dug into the slopes of mountains for agricultural purposes), Ollantaytambo was a highly effective fortress that also served as a temple. Then, we will continue to the adjacent town of Ollantaytambo, "the unique living Inca town": the best surviving example of Inca city planning, with narrow cobblestone streets that have been continuously inhabited since the 13th century.
After your day out you will be dropped off at your Sacred Valley hotel or driven back to Cusco depending on your schedule with us.
Day 5 | Machu Picchu Tour | First Visit
Today you may have an early start to catch your chosen train to Machu Picchu which will be one of the services described in the link below. The advantage you have is that you have stayed in the valley overnight and therefore do not have to get up as early as you would in Cusco to catch the train.
A transfer will pick you up from your hotel and take you to the station … or if you are staying in one of the hotels really close to the station, you can walk there. After being met in Aguas Calientes by your guide, you could drop off your overnight bags at your hotel before taking the bus transfer to the Machu Picchu site. Here you enjoy a private tour with a local English-speaking guide.
Take the rest of the day as free time to enjoy this incredible site. In the late afternoon, you will return to your chosen hotel in Aguas Calientes, the town that nestles in the valley below Machu Picchu.
Note: The option exists to return to Cusco the same day, but if you have the time, it is well worth staying over the see this incredible place the next day.
If you prefer to stay right at the gate of Machu Picchu, and your budget will stand it, you could choose the Sanctuary Lodge, as its location cannot be beaten.
Day 6 | 2nd day at Machu Picchu
Today you will be able to re-visit Machu Picchu and enjoy this fabulous site at your leisure. You may choose to climb Huayna Picchu, the peak that overlooks Machu Picchu (400 people per day and by prior appointment only), which affords fantastic views and photo opportunities.
In the late afternoon, you will board the train for your trip back to Cusco. You will leave the train at Poroy or Ollantaytambo, a station before Cusco, for a faster and more convenient transfer by road back to your hotel.
Day 7 | Cusco and Arequipa
Enjoy a free morning in Cusco at your leisure, if the schedule permits. Your tour includes the "Cusco Tourist Ticket" which allows you entry to the many museums, art galleries and Inca sites in and around Cuzco. At some point during the day, we will fly you to Arequipa, ringed by volcanoes and snow-capped mountains.
Upon arrival in Arequipa, we will meet you and transfer you to your hotel in the historic city center. If you have a preference, please let us know and we can book it for you. The main square of Arequipa is a real treat, as is the visit to the Santa Catalina Convent, ask our advice on this.
Santa Catalina Convent Video + More Santa Catalina
Day 8 | Colca Canyon Tour
Today, you will start your two-night tour to the Colca Canyon, the deepest canyon in the world. At 10,729 feet, it is twice as deep as the Grand Canyon in the USA. The journey to get to the Colca Valley takes several hours over the altiplano. Vicuñas, llamas and huge volcanoes are visible along the way before we descend into the Colca Valley and arrive at the capital of the Colca Canyon region, Chivay.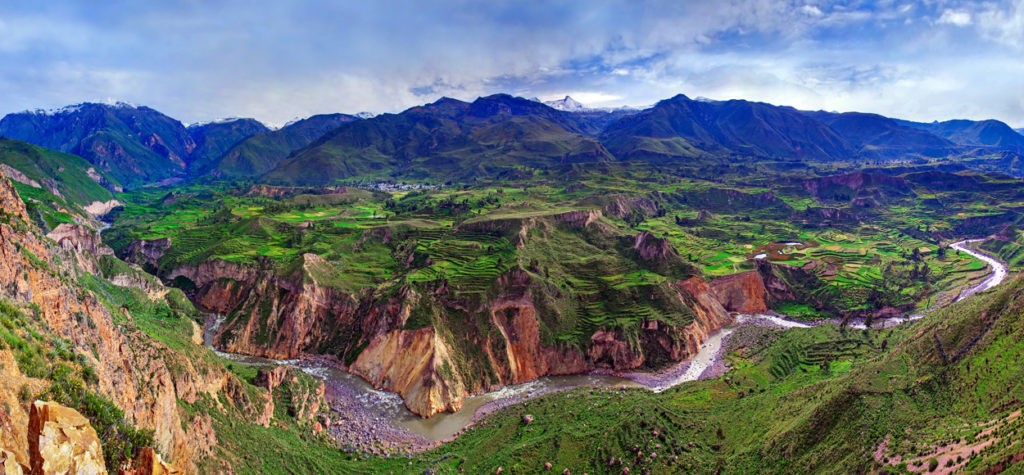 Your accommodation could be at the lovely Colca Lodge, in its exclusive location, with its own hot springs within the hotel grounds; Mamayachi, in the lovely village of Corporaque; or at the Casa Andina in Chivay itself, with its own observatory. Colca Lodge is a particularly good choice as you can really relax in the fabulous surroundings of the Canyon.
Regardless of where you stay you will enjoy the scenery and be able to bathe in hot springs either in the town or at your hotel.
Day 9 | Condor spotting in the Colca Canyon
You have an early morning start to visit the Cruz del Condor, the best place to see these magnificent birds as they wake up and ride the increasing thermals. With wingspans of up to 15 feet, they are the largest land-living bird on the planet.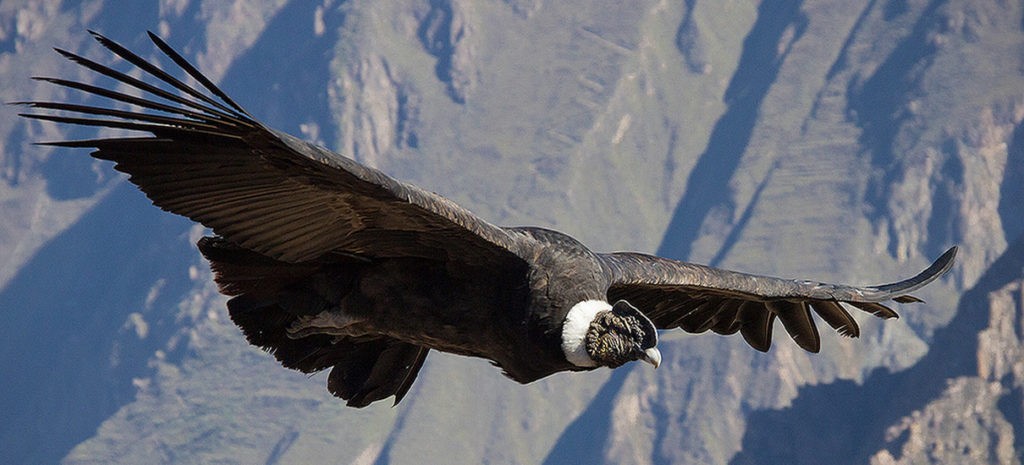 At times there can be 10 to 15 birds flying close to you at one time. It is a spectacular experience you will never forget. In the afternoon, there are other activities, such as trekking or visiting local villages or bathing in the hot springs. Your local guide will be able to advise you on these. You will then spend another night in this lovely, quite isolated place.
Day 10 | Arequipa to Lima
In the morning you will travel back to Arequipa, making a couple of stops along the way. You can either spend another night here, or we can fly you out late afternoon to Lima.
There are many options to extend your time so just talk to us about any ideas you may have. We could add on days for you to visit the Amazon Jungle or the Galapagos Islands, for example.
Included:
Hotels: We work with a wide range of hotels and lodges from 3-star, mid-range, through 4 stars, to high-end 5 star, luxury establishments. You choose and we quote, we custom design each tour to your budget. We deal with all transport from when you enter Latin America to when you leave. Transfers, trains, planes (unless specified in the "Not Included" section), buses, etc. Our "from" website prices are based on 3-star, twin share arrangements, and in the lowest season. Single supplements will vary by tour and season.
Guided Tours: You can choose private tours for just you and your traveling companions or take a tour with other people you don't know. You can, of course, mix tour styles up during the same tour to suit your wishes, some private and some group.
Support & Backup: You will have 24 / 7 backup while on tour with us. We provide you with all the information and contacts you need and you will feel safe and very well taken care of.
Meals: This very much depends on the type of tour you choose, some places such as the Amazon jungle or Galapagos cruises are nearly always full board. Breakfasts are generally included, plus some lunches and evening meals in accordance with your specific schedule. More often than not we like to leave people to choose where to eat in the evenings as there is a wide range of great places to try.
Entrance Fees & Tickets: Where a particular tour is included in your itinerary the necessary entrance tickets or fees will also be included (unless local conditions dictate otherwise). Such tickets will be held by your local guide and presented to you at the correct time.
Not Included
Flights: We quote most domestic and international flights according to your specific program as prices vary greatly according to seasonal demand. We may be able to get special prices/discounts at some times and can pass these savings on to you. Your travel consultant will advise you and provide the flight costs with your tour program.
Many clients use miles to buy their flights and we just work those into the schedule, online booking engines like Kayak are also a great option.
Travel Insurance & Expenses: Personal expenses are not included and we advise that clients bring some cash and a credit/debit card to take funds from ATMs / pay directly. Travel insurance is considered mandatory under our terms and conditions, please ask your travel consultant for details.
Tips: Ask us for our advice regarding tipping as it varies by country and service.