Peru and Bolivia Tour | 12 Day Package
These two Andean neighbors are easily combined and will show visitors amazing cultural wealth, ancient civilizations, stunning landscapes, and gastronomic adventures. The example Peru and Bolivia tour below runs over 11 days but of course, it can be customized to suit.
Note: This Peru and Bolivia tour can be enjoyed in either direction. It can be shortened by flying Cusco to La Paz and visiting the lake just in Bolivia. And there are so many ways to extend the trip.
Overview of Peru and Bolivia tour schedule:
Day 1: Arrive in Cusco, hotel in historic center, afternoon city tour,
Day 2: Sacred Valley tour, overnight in the Sacred Valley
Day 3: Machu Picchu, guided tour and overnight Aguas Calientes
Day 4: Second visit to Machu Picchu, back to Cusco
Day 5: Full day trip to Lake Titicaca, sightseeing bus or train
Day 6: Lake Titicaca and Uros Islands excursion
Day 7: Cross to Bolivia, Copacabana, Titicaca, and La Paz
Day 8: Sightseeing in La Paz, city tour, cable cars, Moon Valley
Day 9: Fly to Uyuni, Salar excursions, overnight salt hotel
Day 10: Full day in the high desert, overnight remote hotel
Day 11: Continue desert visits and back to Uyuni, fly to La Paz
Day 1 | Arrive in Cusco, city tour
You will arrive in Cusco via Lima. If you have a little more time available you could have an extra couple of nights in Lima to enjoy this historic but crazy capital, and enjoy its world-class gastronomy.
We will meet you at the airport and transfer you in a private vehicle to your hotel, we work with a wide range of Cusco hotels to suit your budget, from 3 to 5 stars (so you just let us know), all of which are central, clean and comfortable with private bathrooms of course.
After settling in and grabbing a quick snack maybe (don't eat too much when you first arrive) you will then enjoy a Cusco city tour, visiting the Inca fortress of Sacsayhuaman, plus the three other smaller Inca ruins close to Cusco; Cusco Cathedral in the main square; and the most important temple of the Inca Empire, Coricancha, the Inca Temple of the Sun. Cusco is a lovely city to wander around and you should take time to do this, when not being guided.
Day 2 | Sacred Valley of the Incas
This Machu Picchu tour includes a Sacred Valley route that visits Chinchero, an ancient village where much of the original character and traditions have been maintained. We will often use this route on shared tours to avoid many of the crowds in the Pisaq area (Pisaq can be visited of course, but we use a different itinerary). Also, your tour to the Sacred Valley of the Incas includes a buffet lunch so you can recharge your batteries along the way.
Today's first destination is Chinchero, a quaint little town that houses an important Inca archaeological center, built at the end of the 1400s, as well as a lovely and very traditional church. You will visit "Urpi" a famous textile center where the townsfolk have preserved the traditional Andean spinning and weaving techniques, they will also show you how they get the vivid natural colors for their fabrics. On our way to Ollantaytambo, we will stop at the lookout point of Racchi, where we will have the chance to have some of the best views of the Sacred Valley, after that, lunch will be served in a local restaurant.
Afterward, we will visit Ollantaytambo, one of the most monumental architectural complexes of the ancient Inca Empire, one of the few places where the Spanish conquistadors lost a major battle. Very well known for its "Andenes" (terraces dug into the slopes of mountains for agricultural purposes), Ollantaytambo was a highly effective fortress that also served as a temple.
Then, we will continue to the town of Ollantaytambo on the valley floor, "a unique living Inca town" and the best surviving example of Inca city planning, with narrow cobblestone streets that have been continuously inhabited since the 13th century.
After your day out you will be dropped off at your Sacred Valley hotel.
Day 3 | Machu Picchu Tour | First Visit
One of the highlights of this Peru and Bolivia tour is enjoyed today. You will have an early start to catch your chosen train to Machu Picchu which will be one of the services described in the link below. The advantage you have is that you have stayed in the valley overnight and therefore do not have to get up as early as you would in Cusco to catch the train and you have more time to play with later in the day.
A transfer will pick you up from your hotel and take you to the station. After the 90-minute train ride, you will be met in Aguas Calientes by your guide, you drop off your overnight bags at your hotel before taking the bus transfer up to the Machu Picchu site. Here you will enjoy a tour of one of the most spectacular places on the planet with your local guide.
In the late afternoon, you will return to your chosen hotel in Aguas Calientes, the town that nestles in the valley below Machu Picchu.
Note: The option exists to return to Cusco the same day, but if you have the time, it is well worth staying over the see this incredible place the next day. If you prefer to stay right at the gate of Machu Picchu, and your budget will stand it, you could choose the Sanctuary Lodge, as its location cannot be beaten.
Day 4 | 2nd Machu Picchu Tour Visit
Today you will be able to re-visit Machu Picchu and enjoy this fabulous site at your leisure, without being guided. You may choose to climb Huayna Picchu, the peak that overlooks Machu Picchu (400 people per day and by prior appointment only), which affords fantastic views and photo opportunities.
You may choose to grab something to eat near the site or down in the village below. Then in the late afternoon, you will board the train for your trip back to Cusco. You will leave the train at Ollantaytambo where you boarded, as you know this is a station before Cusco in the Sacred Valley, to then have a faster transfer by road back to your hotel in Cusco.
Day 5 | Sightseeing VIP bus to Puno
Today, you will be transferred to the bus station for your full-day trip to Puno, the base for your Lake Titicaca tour section. During the comfortable nine-hour journey, there will be several interesting guided visits and a buffet lunch. It is not just transport – you will see and learn a lot along the way.
You could also choose to upgrade your Peru and Bolivia tour to use the luxury Andean Explorer train to Lake Titicaca. This is a superb ten-hour train journey, which takes you across the spectacular Peruvian Altiplano (high plain) in great comfort. Ask us about this and let us see if it fits your schedule and budget.
Day 6 | Uros and Lake Titicaca Tour
Today, you will enjoy a full-day visit to the strange Uros Islands and the large island of Taquile on the highest commercially navigable lake in the world, Lake Titicaca. Make sure you have plenty of camera battery as there are some great photos ops today.
This lake is the fabled birthplace of the Inca nation, from where its founders Mana Ocllo and Manco Capac traveled to Cusco to establish the capital of the Empire.
You will have a local guide all day and lunch included on Taquile Island. Make sure you have plenty of sunscreen, a hat, sunglasses, and gloves for when the sun goes down!
Day 7 | Cross to Bolivia, Copacabana, Titicaca and La Paz
Important: Please double check if you need a visa for Bolivia.
Certain experiences on our Peru and Bolivia tour are extremely memorable, and quirky overland border crossings are a classic example. Today is an early start as we have a lot of ground to cover as we enjoy one of these crossings.
We will pick you up from your hotel and a tourist standard bus service will drive you through lakeside villages and countryside to the Bolivian border. This will be about a two and half hour drive. After maybe a 45-minute border crossing, which will be very interesting for you we imagine, there will be a short drive in Bolivia to get to the small town of Copacabana.
In Copacabana, we will have a quick look around before boarding our yacht to sail to the Sun Island, the fabled birthplace of the Inca nation. You will spend a couple of hours on the Isla del Sol visiting some points of mythical and cultural interest. After your time here it's back onto the boat for some lunch while sailing to a different port from where we will drive to La Paz. In the Bolivian capital, we will drop you off at your hotel with the time to be ready in the morning.
Day 8 | Sightseeing in La Paz, city tour, cable cars, Moon Valley
Today will be a comprehensive overview of things in the Bolivian capital. You will visit some of the traditional markets including a look at the famous Witches Market. Then take a spin around some of the main city landmarks, colonial buildings, and churches, such as those in the Plaza Murillo and nearby. We will see the infamous San Pedro prison (from the outside) and hear the remarkable story of how things work inside.
We will take a ride on one of the many Mi Teleferico cable car lines that La Paz has installed. The views from this mass transit system are superb. Lastly, we head downhill to the Moon Valley where we will walk among the strangely weathered rocks in this natural reserve.
Day 9 | Fly to Uyuni, Salar excursions, overnight salt hotel
We will transfer you to La Paz airport for your early morning flight to Uyuni. After 45 minutes in the air, you will land in this remote, high altitude town and be picked up in our 4 x 4 vehicle to start your Altiplano adventure.
Firstly we will head out across the salt flats visiting any points of interest we see en route to the tiny settlement of Coquesa. So there will be stops to take photos, such as at the Ojos de Agua, or if we see any birds or animals en-route. In Coquesa we will visit the mummies in their lofty resting place and climb to a viewpoint for great vistas of the great expanse of salt and the imposing Tunupa volcano.
Then we drive out into the white crust again, heading to a tiny island covered in cacti right in the middle of the salt flats. You will be blown away by the "middle of nowhere feeling" while traveling in this incredible landscape. However, when you arrive at Incahuasi Island be prepared to see plenty of other people and a gaggle of vehicles. The spot is a popular one, you will see why.
We will refuel you with simple breakfasts, lunches, and dinners during your time with us on this 3-day circuit. Lunchtime might be a picnic along the route al fresco. Our schedule is somewhat flexible as you have the vehicle to yourselves and we will try to pick great spots to eat. After you have blasted your camera batteries at Incahuasi its back into the 4x4s and off across the salt crust to our hotel in Colchani.
We will arrange for you to stay in one of the salt hotels close to Colchani. These hotels have been constructed from salt bricks for the most part, and have a charm and quirkiness you will love. The photos above give you a taste of what they are like.
Day 10 | Drive out & overnight in the high desert
Today we head out into the high desert, we will drive for a few hours through stunning landscapes, stopping frequently at points of interest. The route will provide a number of volcano and high-altitude lake views. Flamingos should be spotted along the way, plus maybe some mammals such as rabbits, foxes, vicuña, and llamas.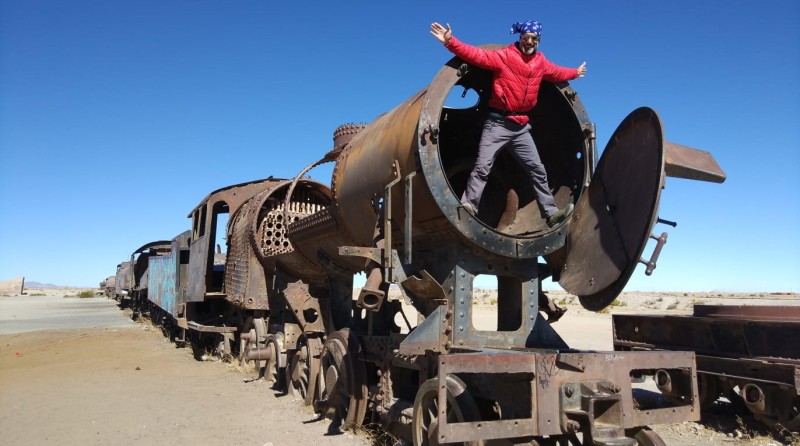 Before we leave the Uyuni area we will make a visit to the eerie "train Cemetery". Uyuni is served by a railway and in the past had plans to increase its network, hence many engines were imported from the UK. The plans didn't pan out and today the once magnificent machines sit rusting in their graveyard. A visit will not disappoint and the photo ops are superb.
Your day will then be spent soaking in views of colored lakes and lagoons, Hedionda Lagoon, for example, the unusual San Cristobal church (see the video below) flamingos and other wildlife, volcanoes, and mountain landscapes. Everywhere you look there is an impressive vista. Late afternoon sees us arrive at your hotel for tonight, the Tayka del Desierto. This hotel is literally in the middle of nowhere, very close to the Chilean border.
Google the location and select "Satelite View" to get a real idea of where you will be, the video below shows the hotel and some of the landscapes nearby. OK, it not fancy, but look where you are!
Day 11 | Colored Lakes, Hot Springs & Geysers
Today we venture even deeper into this high-altitude wilderness. Leaving the hotel we drive across the barren but beautiful Altiplano until we sight the iconic "Rock Tree". A photo with this rock weathered into the shape of a tree is a classic, and there are many other natural rock sculptures along the way too. After this stop, we visit the Laguna Colorada, a multicolored salt lake where Flamingos are a common sight.
We will visit a geothermal field next, the Sol de Mañana geysers, with the accompanying steam and bubbling. Then it's on to the hot natural springs in Polques where you can bathe if you wish. there is a place to change so why not take a dip in these lovely hot waters. After you have dried off and changed we will continue through the Dali Desert landscape to Laguna Verde. After spending time at this green lake, surrounded by impressive nothingness its back into the vehicle for the circuit back to Uyuni.
Sadly we have come to the end of the Peru and Bolivia tour. If you are flying out of Uyuni this evening we will take you to the airport and check you in. There are two other options for endpoints on this Uyuni salt flats tour though, Tupiza in Bolivia or San Pedro de Atacama in Chile. We can link this trip with other South America locations and place them around your Salar de Uyuni section. Please talk to us about these options.