Enjoy Uruguay from Buenos Aires
Uruguay is not the most famous South American destination but it really does have a lot to offer. Uruguay from Buenos Aires is a short, easy hop and will give you a taste of historic, colonial and rural Uruguay. Something not mentioned in the video below is the wine, which is very good!
You will visit Colonia and Carmelo on this compact five-day Uruguay tour. However, if you have more time, you could include the capital Montevideo and have some beach time in Punta del Este too.
Although the tour can be taken at any time of the year, we recommend taking it outside the months of June, July, and August when the weather is not so good. The winter of the Northern Hemisphere is the best time to visit Uruguay.
Note: This is a fully private service. No group tours are used as we go off the beaten track, and you have greater flexibility during visits.
Day 1 | Colonia, Uruguay from Buenos Aires
The main route of access for the historic gem of Colonia is via Buenos Aires. From the Argentine capital, there are a number of ferry services that will get you over to Uruguay at a time to suit your schedule.
Upon arrival, you will be met by your local guide and transferred to your hotel in the historic center of Colonia to check-in and drop off your bags.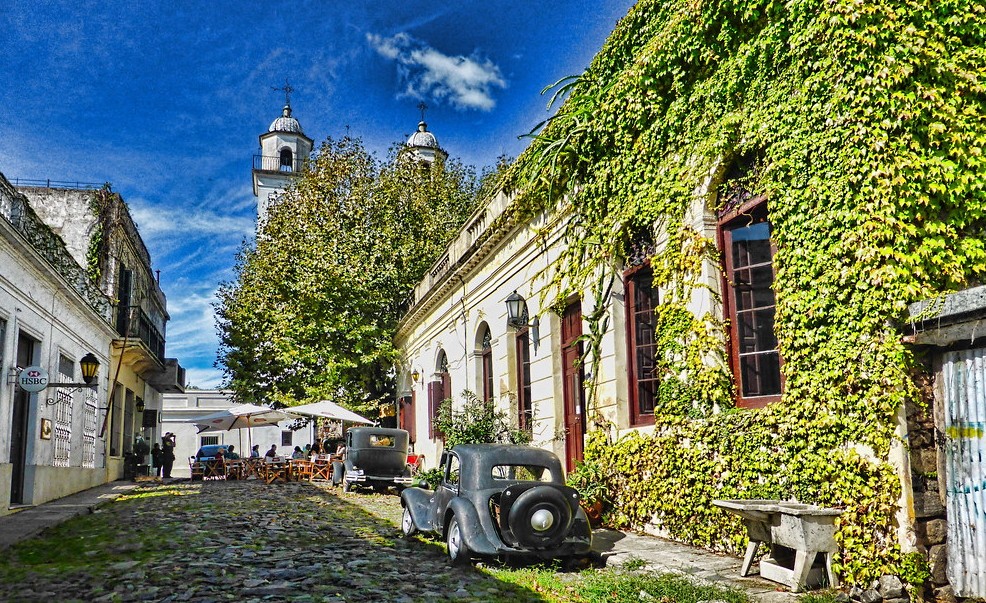 Depending on your time of arrival you might grab some lunch or launch straight into your exploration of this beautiful old city.
Your afternoon / early evening will be spent enjoying a walking tour of the historic center. The myriad of narrow cobbled streets is a delight to wander and are steeped in Portuguese and Spanish Colonial history. The old city is picture-perfect from any angle and is complemented nicely by an array of vintage cars, which are a particular feature of Uruguay.
Your guide will leave you at your hotel after your tour and give you ideas of where you could eat. If you are really hungry after your exertions you could tackle a traditional Asado, which is a huge grill filled with meat of all kinds.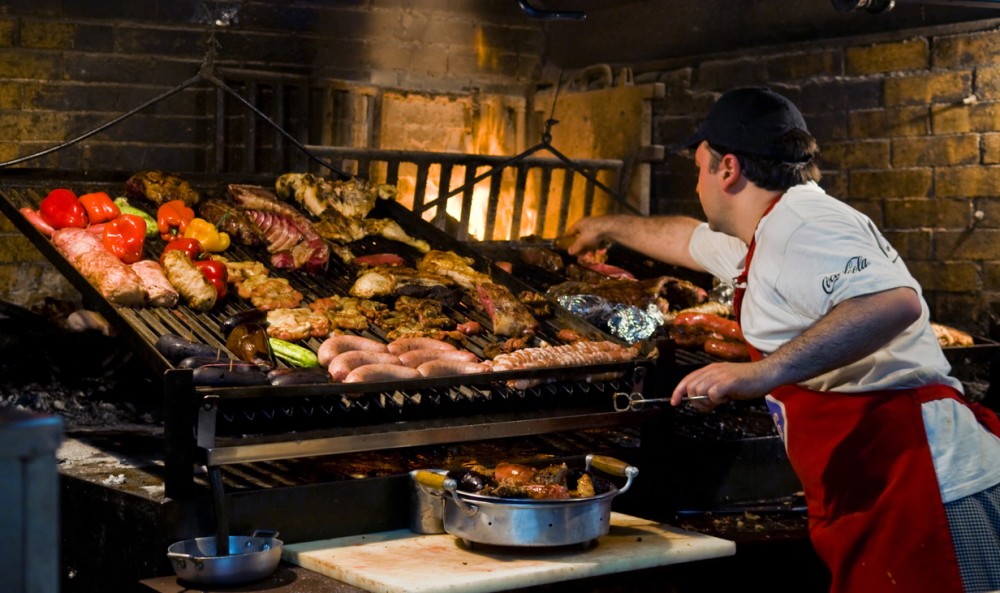 Our suggested lodging in Colonia is the lovely La Mision Hotel, but there are a number of great hotel options depending on your budget and tastes.
Day 2 | Travel to Carmelo
Today, you will be picked up from your hotel by your guide and driven to the sleepy provincial town of Carmelo. On the way, you will visit the quirky village of Conchillas which was constructed by an English company in 1887 and is characterized by its strange-shaped cottages.
A couple of hours after leaving Colonia you will arrive at the Irurtia winery in Carmelo for a tour, lunch and wine tasting. The family-run Irurtia winery has recently celebrated its 100-year anniversary and a member of the family will show you around the vineyard and its machinery and explain the process. You will see the storage area with its barrels, bottling, etc. You will then enjoy a tapas-style lunch of local produce and have an extensive wine tasting.
As we have said, old cars are part of the culture in Uruguay and after your wine tour, you will be taken to your hotel in a 1925 model T Ford (as long as it is working fine that day) and you will see a number of old cars as you travel around. At any point of the trip, we can include activities such as a Tango show, horse riding or beach time.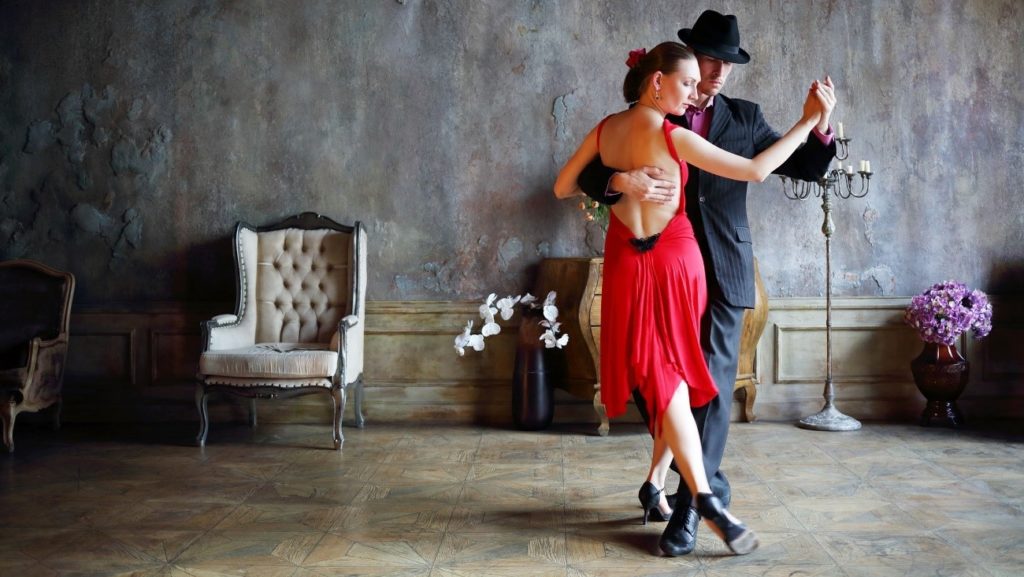 We suggest staying at the Los Muelles Hotel in Carmelo (we have other options of course). You will be free this evening to check out Carmelo town. Our recommended hotel is right on the river bank and you can people-watch from your balcony and wander the river promenade mixing with the locals. The hotel was built in Art Deco style in the 1930s and has been extensively renovated – Video of the Los Muelles Hotel
Day 3 | Olive Groves and Wine Tasting
After a very leisurely breakfast, you will be picked up by your guide and taken to the Longo family olive farm. You will be shown around the groves and the factory by the owner herself, who is extremely knowledgable and enthusiastic about the production of extra virgin olive oil.
After the tour, you will enjoy a tasting session to notice the difference between different oils.
After the olive farm, we will move on to a small boutique vineyard, Bodega El Legado. Here the owners will again show you around the small-scale, specialist equipment and vines, explaining their methods. You will then enjoy an oak-matured Tannat tasting session and eat a hearty Asado prepared at the winery.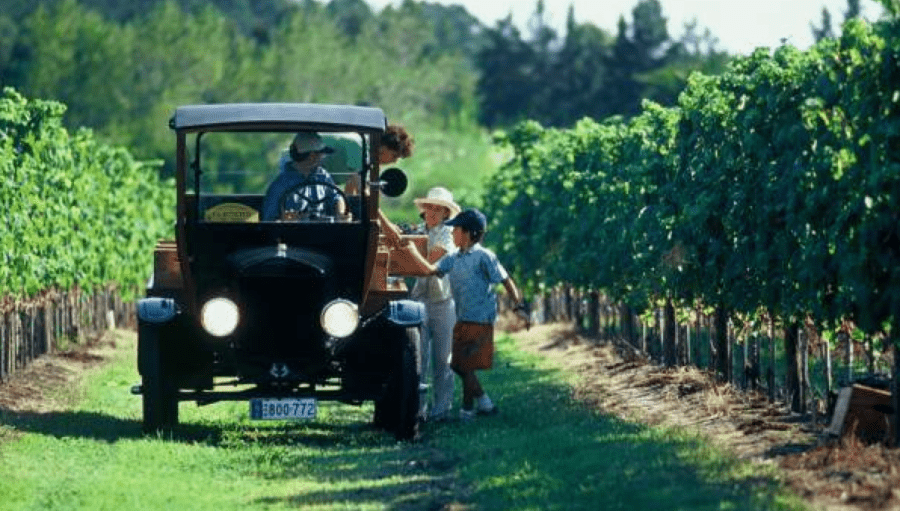 Full and slightly merry, we will drop you back to your hotel for a siesta and a free evening in Carmelo. If you are a golfer, please let us know as we can arrange a round at the excellent Carmelo course.
Day 4 | More vineyards and on the farm
You will check out of your hotel in Carmelo today, as tonight you will be staying at a nearby rustic, rural hotel in the middle of the countryside, surrounded by farmland and orchards.
First, though we will visit the Las Moras farm where you can get involved in farm tasks. Most of us live in huge cities and have probably never had the chance to milk cows or herd goats, see how cheese and bread are made and collect eggs. Here is where that opportunity comes.
After the farm, you will be taken to the Campo Tinto hotel (or similar) to check-in and then enjoy a quick look around the local countryside in the old Model T Ford, before arriving at the Cordano artisan winery for a little more Tannat tasting plus a great tapas lunch.
In the afternoon, you will be able to go horse riding in the local countryside and have an idea of what the Uruguayan cowboys – gauchos – do.
The evening will be free for you to relax and soak up the atmosphere of staying in the country.
Day 5 | Colonia and onward
We say goodbye to the ranch staff, and after breakfast, your guide will take you back to Colonia via an interesting visit to the Jesuit ruins and limestone kilns at the Calera de la Huerfanas. This visit will be timed to coincide with your onward plans and the options are endless, depending on your time scales and budget of course.
In Colonia you might board the ferry back to Buenos Aires to continue a tour in Argentina, fly on to another South American destination or spend extra time in Uruguay. Unfortunately, many of you will have to go home!