Highlights of Guatemala | Tour Overview
Our 7-day Highlights of Guatemala tour combines stunning natural beauty with a strong Mayan and Colonial heritage. The traditional city of Antigua, Lake Atitlan, the local market of Chichicastenango, and the legendary ruins of Tikal will be real tour highlights.
Note: This is an example Guatemala tour package. All of our tours are fully flexible and we can custom-design to suit you whatever you like.
Day 1 | Arrive in Guatemala City
Your Highlights of Guatemala tour begins upon arrival at the Guatemala City airport when you will be met and transferred to your hotel.
There is a good range of hotels available in this bustling capital city. For the superior option, guests could stay at the Guatemala City Marriott; or as a slightly more economical option, guests could stay at the Best Western or similar style hotel. We have something for everyone's pocket.
Depending on your arrival time, you may have time to explore the city, taking our advice on what and where is best to see with the time available.
Day 2 | Colorful Chichicastenango
Today, on the second day of your Guatemala tour, we will make our way to one of the region's most famous outdoor markets, to be found in Chichicastenango. Here the locals come from all around the countryside to buy, sell and barter a huge range of goods, from fruit and grains to animals and handicrafts.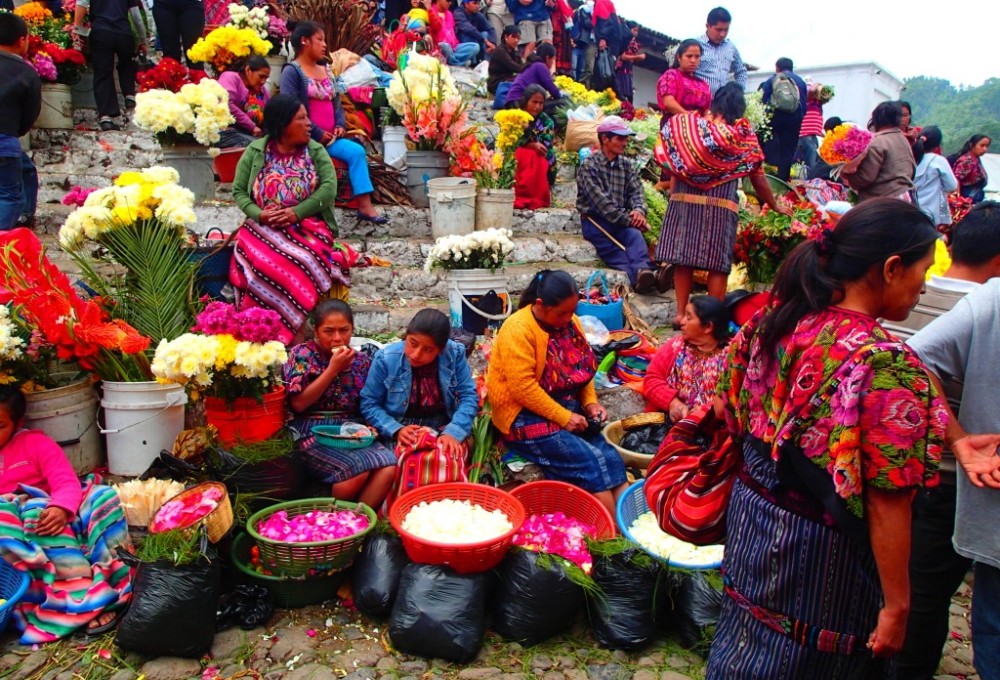 Whilst here, a visit to the Santo Tomas Church is a must, as the local Maya – Quiche prays here, following ancient Maya traditions. After a local lunch, we will head out to the lovely Lake Atitlan. Atitlan is one of the world's most magnificent and beautiful lakes.
After our visit, we will make our way to the town of Panajachel, and upon arrival, we will check in to our hotel. You are able to choose between superior hotel options, such as the Hotel Atitlan, or more economical options, such as the Villa Santa Catarina.
Day 3 | Atitlan to Antigua
After breakfast, we will make our way to Santiago Atitlan, one of the 12 traditional villages that surround Lake Atitlan. We will board a boat to cross the lake to the Maya-Tzutuhil village, which is renowned for its naïf paintings, textiles, and woodcarvings, as well as the character Maximon, who is worshiped by the Santiago villagers.
After the tour, we will return to Panajachel, and then continue on our way to the colonial gem of Antigua where, depending on your tour budget, you could be staying at the Casa Santo Domingo (superior) or the Villa Colonial (mid-range), or any other quality hotel chosen from the large range on offer.
Day 4 | Historic, Beautiful Antigua
Antigua is undoubtedly one of the most beautiful Colonial cities in Central America, and the minute you set foot on its cobbled streets you will understand why UNESCO declared it a Cultural Heritage of Humankind site. The city is surrounded by three volcanoes (Agua, Fuego, and Acatenango), and the urban areas are dotted with bougainvillea plants that sprout out of the crumbling buildings and terracotta tile roofs. There are also plenty of parks and plazas for you to sit in and unwind, enjoying the sun.
During the journey, we will stop off at the San Antonio Aguas Calientes village, where you will find plenty of locally-made handicrafts and textiles.

We will then head to the Centro Cultural La Azotea, where a guide will take you on a visit to a local coffee farm and you can enjoy some of Antigua's finest coffee.
You will also visit the traditional Mayan music museum (Casa K'Ojom), and have a guided walking tour of Antigua´s historic center. After this full day of activities, you will return to your hotel for a good night's sleep.
Day 5 | Exploring Tikal
After an early breakfast, you will be transferred from your Antigua hotel to the airport, where you will board your flight to Flores, Peten. Here your highlights of Guatemala reaches a pinnacle.
This northern part of Guatemala is regarded as the birthplace of the Mayan Civilization and at its center is the magnificent ancient city of Tikal. The city has long been regarded as one of the biggest and most important sites of the Mayan world, and in 1979 was declared a World Heritage Site.
You will be given a guided tour of the site's palaces, temples, and complexes, as well as be able to take in the beauty of the natural surroundings, which hundreds of exotic birds and wildlife call home.
You will then return to the town of Flores, where you could possibly stay at the Villa Maya (superior) or Maya International (standard), depending on your tour style.
Day 6 | Tikal & Guatemala City
Today, you will have the morning at your leisure. You can spend it either relaxing by the pool, wandering, shopping, bike-riding or kayaking. If you make an early start, you could even re-visit Tikal (all options should be open to you).
Then in the early afternoon, you will be transferred to the airport where you will board your flight back to Guatemala City. Your final night in Guatemala will be spent in the slightly crazy capital.
Remember: All of our Guatemala tours are custom-made, and if you feel you are moving too quickly with this itinerary and would like to add more days here and there, no problem!
Day 7 | Saying Farewell to Guatemala
Take advantage of your last morning in Guatemala City (flight schedule permitting), before being transferred to the airport, where you will catch your flight home, or join one of our other Central or South American tours such as Costa Rica or Nicaragua for example?