Galapagos and Peru tour highlights:
What a Galapagos & Peru tour combo! Walk in the footsteps of the Inca in Cusco and Machu Picchu plus Charles Darwin in the Galapagos | Two amazing locations and much more in-between.
Two visits to the Inca citadel of Machu Picchu
4-day Galapagos cruise or a hotel-based program
Enjoy Cusco and the Sacred Valley of the Incas
Visit Lima, the "City of Kings"
Quito sightseeing, middle of the world monument
Wide choice of hotels, train services, and tour options
Flexible dates, go and come back any day
Full package, flights, hotels, tours and other services
12 Day Galapagos and Peru from US$ 2995 per person
Remember: Everything we do is tailor-made so you choose your travel style, hotel level, private or group Peru tour or Galapagos cruises, flight dates, Galapagos cruise type or land-based trips, train levels, etc. Then let us make it happen.
Day 1 | Start your Galapagos and Peru tour in Lima
You can arrange your international flights yourself, or please ask us to do so. We will fit everything around your flight timings when you decide on your flight dates. Upon arrival, we will meet you at Lima airport and transfer you to your hotel in the Miraflores, San Isidro or Barranco areas of the city.
Depending on your arrival time we might be able to fit some visits in today (see the option below) but if not just enjoy the rest of the day as free time to rest up and enjoy the world-renowned Peruvian food and Pisco Sour cocktail.
Peruvian Gastronomy Option: Many of our clients are enjoying adding this to their day in Lima, click the link to see all the details. If you book this within our package it will cost you less and we can fit it around any other visits.
Day 2 | Explore Lima and fly to Cusco
After breakfast, we will pick you up for a morning tour of colonial Lima. You will walk around the very impressive Plaza de Armas main square and see Lima cathedral and the church and convent of San Francisco, among other imposing colonial buildings in the center.
After your tour, you will be driven to Lima airport for your short late afternoon flight to Cusco. Upon arrival, we will meet you and transfer you to your hotel and you will have someone on hand to answer any questions.
Day 3 | Sacred Valley of the Incas Tour
Today we will take you down to the Sacred Valley (and more oxygen). Most of our tour options include a visit to Chinchero, an ancient village where much of its original character and traditions have been maintained. We will often use this route on shared tours to avoid many of the crowds in the Pisaq area. Pisaq is a great visit also, hence the crowds, and we can include the ruins and market by using a slightly different itinerary – just let us know your preference.
The tour of the Urubamba Valley includes a visit to the community of twelve weaving families, called "The Inca Balcony" in the ancient village of Chinchero, between Cusco and the valley. Chinchero is a place where the ancestral methods of coloring and manufacturing of fabrics and weaving are still being used today and it is not as touristy as some villages in the area, giving you a more authentic feel. The views of Chinchero and the surrounding areas cannot be beaten.
You may elect to visit Moray, an impressing pre-Inca greenhouse, then, we will have lunch in a local restaurant. After lunch, you will visit the Inca town and fortress at Ollantaytambo, the site of an important Inca temple and the royal estate of Emperor Pachacuti.
It is believed to have some of the oldest, continuously occupied dwellings in the Americas – dating back to the late 15th century. You will stay overnight in the Sacred Valley at a hotel of your choice, and our suggestion of course.
Day 4 | Machu Picchu tour | First visit
Today you will experience the world-famous highlight of Machu Picchu starting with catching an early train to Machu Picchu. The advantage you have today, having stayed in the Sacred Valley overnight, is that you do not have to get up as early as you would in Cusco and have more time left in your day as a result.
After being met in Aguas Calientes by your guide when you disembark the train, you can drop off your overnight bags at your hotel, before taking the bus transfer up to the Machu Picchu site.
Enjoy a tour of the citadel with a local guide and you will exhaust your camera battery. In the late afternoon, you will return to your hotel in Aguas Calientes, the town that nestles in the valley below Machu Picchu.
Note: The option exists to return to Cusco the same day, but it is well worth staying overnight to see this incredible place twice.
Day 5 | Machu Picchu visit & Huayna Picchu
Today, you will be able to re-visit Machu Picchu and enjoy this fabulous site at your leisure. You may choose to climb Huayna Picchu, the peak that overlooks Machu Picchu (400 people per day, and by prior appointment only at either 7 am or 10 am), which affords fantastic views and photo opportunities.
In the late afternoon, you will board the train for your trip back to Cusco. You will leave the train at Poroy, the last station before Cusco, or maybe at Ollantaytambo, for a faster and more convenient transfer by road back to your hotel in Cusco. No trains actually arrive at Cusco train station from Machu Picchu any more, and you do save quite a lot of time as a result.
Day 6 | Enjoy a day in Cusco
Take advantage of a free morning before we pick you up in the afternoon to enjoy a Cusco city tour visiting the Inca fortress of Sacsayhuaman plus the three other smaller Inca ruins close to Cusco; Cusco cathedral in the main square; and the most important temple of the Inca Empire, the Coricancha, the Inca Temple of the Sun.
Cusco is a lovely city to wander around and you should take time to do this, when not being guided. Try to visit the San Blas area of the city, you will be acclimatized by now but take it easy uphill (or get a taxi). The food during our clients' time in Peru is a major highlight and us at Escaped, or your local guide can suggest where to eat.
Day 7 | Cusco to Quito via Lima
Today is basically a travel day as you move from the Peruvian mountains to the Ecuadorean volcanoes. In the morning, we will transfer you to Cusco airport for your short flight to Lima and a connection to your two-hour flight to Quito. Your Galapagos and Peru tour sadly says goodbye to Peru and its superb food but hello to its fantastic neighbour.
When you arrive we will meet you and take you to your chosen hotel. Enjoy the rest of the day as free time to wander this historic city. Our hotels include the Hotel Quito, for our mid-range level clients; and the Patio Andaluz for those who wish to splash out a little more. We have a wide range of options and there is something for everyone to be fair.
Day 8 | Quito and the "Middle of the World"
Today our Galapagos and Peru tour shows you the capital of Ecuador. You will enjoy a full day city tour of Quito visiting the fabulous Colonial city center and the "Middle of the World" Monument, which sits directly on the Equator. Quito is a UNESCO World Heritage city.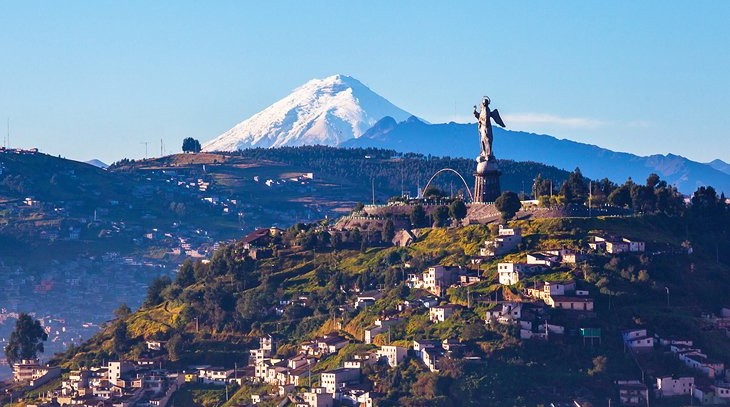 There are many dining options in the center, ask your local guide for the latest trends. If there is something you wish to add to your day in Quito just let us know, we can cater for almost anything you might wish to try.
Day 9 | Fly to Galapagos Islands to join your cruise
Today, we will transfer you to Quito airport for your flight to the world-famous Galapagos Islands. You will be met upon arrival at Baltra airport and be transferred to your yacht (of which you have a large range of choices).
You will then marvel at the experiences on offer during the next 3, 4 or 7-day tour of the Galapagos Islands, enjoying their fascinating landscapes and unique wildlife.
Note: You can choose not to sleep on-board a boat and take a hotel-based tour with us or even an island-hopping trip.
Below is an example of the type of cruise program on offer, routes and sites vary according to date but this is a sample program:
PM | Highlands | Pit Craters (Santa Cruz)
Dry landing. A 45-minute bus ride will take us to the Santa Cruz highlands, located to the northwest of Puerto Ayora, where we will find a natural reserve with giant tortoises*. These enormous and slow-moving reptiles are responsible for the island's name and therefore approaching them in their humid and forested abode is always an inspiring adventure. They can weigh between 250 and 300 kg and can live up to 150-200 years.
Additionally, travelers can walk inside surprising lava tubes*; we also visit Pit Craters created from the collapse of surface materials into chamber fissures underground. It's a great place to spot Vermilion Flycatcher as we walk inside an endemic scalesia forest.
Difficulty level: Easy
Type of terrain: Flat & muddy sometimes (depending on the season)
Duration: 45-minute drive / 1h 30 walk
Day 10 | More delights of the Galapagos
Egas Port (Santiago)
Our Galapagos and Peru tour continues today with a wet landing on a beach of black volcanic sand, visited by Darwin in 1835. The first section of the trail is comprised of volcanic ash (eroded tuff) and the other half of partially uneven terrain is comprised of volcanic basaltic rock lounging the shoreline.
The unique, truly striking layered terrain of Santiago's shores is home to a variety of resident and migrant birds, including the bizarre Yellow-crowned Night Heron and an astounding array of marine wildlife including lobster, starfish and marine iguanas grazing on algae beds alongside Sally Lightfoot Crabs. Colonies of endemic fur seals swimming in cool water pools formed by volcanic rocks are also a highlight.
Difficulty level: Intermediate
Type of terrain: The first part flat and then semi-rocky.
Duration: 1h 30 walk / 1-hour snorkeling
PM | Bartolomé
Dry or wet landing. We discover a fascinating moonscape* formed by different volcanic parasitic cones —lava bombs, spatter, cinder cones —as we hike to the summit for impressive views of the surrounding islands, including the eroded tuff cone Pinnacle Rock*. We also encounter marine iguanas, lava lizards, and blue-footed boobies*.
Beach time is a great opportunity to snorkel and see (perhaps swim with) Galapagos Penguins, sea turtles, and White-tipped Reef Sharks among a great variety of colorful fish. For many visitors, this may turn out to be the best of snorkeling experiences*; the water here is generally clear, without too much surf and full of marine life.
Difficulty level: Intermediate.
Type of terrain: Trail made of steps (372 steps)
Duration: 1h 30 walk / 1-hour snorkeling
Day 11 | More Galapagos Exploring
Dragon Hill (Santa Cruz)
Dry landing. We walk by a brackish lagoon where feeding flamingoes can be occasionally found. The trail leads across typical dry zone vegetation* up to Dragon Hill, an important nesting ground for endemic land iguanas*, offering lovely views of the anchorage and neighboring islands. The forest is home to mockingbirds, Darwin's finches, Yellow Warblers and Galapagos Doves.
Difficulty level: Intermediate
Type of terrain: Rocky
Duration: 2-hours walk
PM | North Seymour
Dry landing. This is perhaps one of the busiest tourist destinations on the archipelago. Off of Baltra Island (where the airport is located) and not far from Santa Cruz, North Seymour is the most accessible for day trips out of Santa Cruz's main port, Puerto Ayora.
An approximately two-hour walk amidst large nesting colonies of blue-footed boobies*, magnificent and great frigate birds*, and swallow-tailed gulls for an in-depth encounter with sea bird breeding cycles and as well as sea lions. You will also encounter sea lions, land iguanas, and on a lucky day, you might even come across a Galapagos Snake.
Difficulty level: Intermediate
Type of terrain: Rocky
Duration: 2 hours walk, 30-minute snorkeling
Day 12 | Saying Goodbye after Bachas Beach
Bachas Beach (Santa Cruz)
Wet landing on the north side of Santa Cruz; behind the beach lie two small flamingo ponds with iguanas, coastal birds, Darwin finches, mockingbirds, and gulls, as well as interesting native and endemic vegetation, red and black mangroves, salt bushes, and much more. This beach is one of the main nesting sites of sea turtles*in the Galapagos. A female can lay eggs three or four times, with an average of 70 eggs each … but then spend three to five years without breeding.
At this paradisiacal site, we will also find the remains of barges that sank long ago, once the property of the United States Navy when they operated an airbase on Baltra Island during World War II. That is why the beach is called "Bachas" because the word "barges" in English was hard to pronounce for the local people.
Difficulty level: Easy
Type of terrain: Sandy
Duration: 1-hour walk / 1-hour snorkeling/swimming
After your incredible experience in the Galapagos, we will transfer you to the airport for your flight back to Quito or Guayaquil (or wherever you decide to go, linking with other tours or going home).
There are a number of ways to extend this Galapagos and Peru tour, including additional days in the Galapagos, staying land-based at a hotel on the islands, or maybe extending your time with another Peru tour.
*Please note that the price listed above represents the lowest budget rate we can offer for a minimum of 2 people traveling, during the lowest season, sharing rooms in budget 3* hotels, with shared tours & services. Flights are quoted separately according to dates and season.
For solo travelers, the 'single supplement charge' applies (essentially to pay for having your own hotel room, cabin, and airport transfers). Ask your travel consultant for more information.
Included:
Hotels: We work with a wide range of hotels and lodges from 3-star, mid-range, through 4 stars, to high-end 5 star, luxury establishments. You choose and we quote, we custom design each tour to your budget. We deal with all transport from when you enter Latin America to when you leave. Transfers, trains, planes (unless specified in the "Not Included" section), buses, etc. Our "from" website prices are based on 3-star, twin share arrangements, and in the lowest season. Single supplements will vary by tour and season.
Guided Tours: You can choose private tours for just you and your traveling companions or take a tour with other people you don't know. You can, of course, mix tour styles up during the same tour to suit your wishes, some private and some group.
Support & Backup: You will have 24 / 7 backup while on tour with us. We provide you with all the information and contacts you need and you will feel safe and very well taken care of.
Meals: This very much depends on the type of tour you choose, some places such as the Amazon jungle or Galapagos cruises are nearly always full board. Breakfasts are generally included, plus some lunches and evening meals in accordance with your specific schedule. More often than not we like to leave people to choose where to eat in the evenings as there is a wide range of great places to try.
Entrance Fees & Tickets: Where a particular tour is included in your itinerary the necessary entrance tickets or fees will also be included (unless local conditions dictate otherwise). Such tickets will be held by your local guide and presented to you at the correct time.
Not Included
Flights: We quote most domestic and international flights according to your specific program as prices vary greatly according to seasonal demand. We may be able to get special prices/discounts at some times and can pass these savings on to you. Your travel consultant will advise you and provide the flight costs with your tour program.
Many clients use miles to buy their flights and we just work those into the schedule, online booking engines like Kayak are also a great option.
Travel Insurance & Expenses: Personal expenses are not included and we advise that clients bring some cash and a credit/debit card to take funds from ATMs / pay directly. Travel insurance is considered mandatory under our terms and conditions, please ask your travel consultant for details.
Tips: Ask us for our advice regarding tipping as it varies by country and service.