Top Highlights | Tours in Bolivia
Never have the great outdoors been greater! Adding one of our tours in Bolivia to your bucket list is easy, and combining it with Peru or Chile will add even more value to your trip down to South America. Bolivia is a country of great extremes, some madness, lots of stunning beauty, and true living culture. This Andean nation has so much to offer, the overview below covers some of the highlights:
The largest salt flats on the planet – the Salar de Uyuni
The highest navigable lake in the world, Lake Titicaca
La Paz, the craziness, the superstitions, and the Witches Market
Visit the vast Amazon Jungle, a short flight from La Paz
Potosi, a crumbling colonial gem with its notorious silver mine
Sucre, the picturesque capital and its dinosaur footprints
In the footsteps of Butch Cassidy & the Sundance Kid in Tupiza
Tarija, the center of Bolivian wine and Singani production
Click here to see our Peru and Bolivia tour
Most people don't have the time to fit in all of the destinations we mentioned above. We will help you choose which will suit you best and fit as much as possible into the time you do have. We also have a great Bolivia and Peru combo trip you could be interested in.
Overview of 9-Day Bolivia Tour:
Day 1: Arrive in La Paz, rest and wander
Day 2: In La Paz, city tour and Moon Valley
Day 3: Fly to the Salar de Uyuni, overnight salt hotel
Day 4: More Salar and the high desert
Day 5: Colored lakes and geysers, fly to La Paz
Day 6: Copacabana and Bolivian Lake Titicaca
Day 7: Fly to the Amazon Jungle, out to lodge
Day 8: Full day of activities in the Amazon
Day 9: Leave the Amazon and back to La Paz
Day 1 | Arrive in La Paz
When you arrive at the airport we will meet you and drive you down into the center of La Paz. The first view of the city is spectacular, this sprawling high-altitude metropolis stretches out below you as you travel down from El Alto. We will drop you off at your hotel so you can shower and rest after your flight.
We will not program anything for today so you can just recover from traveling, but feel free to wander around the city close to your hotel. Ask us, or hotel reception, for advice. Remember to eat light, and avoid alcohol for your first night as you might be affected a little by the altitude.
Day 2 | La Paz city tour with the Moon Valley
Today will be a comprehensive overview of things in the Bolivian capital. You will visit some of the traditional markets including a look at the famous Witches Market. Then take a spin around some of the main city landmarks, colonial buildings, and churches, such as those in the Plaza Murillo and nearby. We will see the infamous San Pedro prison (from the outside) and hear the remarkable story of how things work inside.
We will take a ride on one of the many Mi Teleferico cable car lines that La Paz has installed. The views from this mass transit system are superb. Lastly, we head downhill to the Moon Valley where we will walk among the strangely weathered rocks in this natural reserve.
Day 3 | Fly from La Paz & start Uyuni salt flats tour
We will transfer you to La Paz airport for your early morning flight to Uyuni. After 45 minutes in the air, you will land in this remote, high altitude town and be picked up in our 4 x 4 vehicle to start your Altiplano adventure.
Firstly we will head out across the salt flats visiting any points of interest we see en route to the tiny settlement of Coquesa. So there will be stops to take photos, such as at the Ojos de Agua, or if we see any birds or animals en-route. In Coquesa we will visit the mummies in their lofty resting place and climb to a viewpoint for great vistas of the great expanse of salt and the imposing Tunupa volcano.
Then we drive out into the white crust again, heading to a tiny island covered in cacti right in the middle of the salt flats. You will be blown away by the "middle of nowhere feeling" while traveling in this incredible landscape. However, when you arrive at Incahuasi Island be prepared to see plenty of other people and a gaggle of vehicles. The spot is a popular one, you will see why.
We will refuel you with simple breakfasts, lunches, and dinners during your time with us on this 3-day circuit. Lunchtime might be a picnic along the route al fresco. Our schedule is somewhat flexible as you have the vehicle to yourselves and we will try to pick great spots to eat. After you have blasted your camera batteries at Incahuasi its back into the 4x4s and off across the salt crust to our hotel in Colchani.
We will arrange for you to stay in one of the salt hotels close to Colchani. These hotels have been constructed from salt bricks for the most part, and have a charm and quirkiness you will love. The photos above give you a taste of what they are like.
Day 4 | Drive out & overnight in the high desert
Today we head out into the high desert, we will drive for a few hours through stunning landscapes, stopping frequently at points of interest. The route will provide a number of volcano and high-altitude lake views. Flamingos should be spotted along the way, plus maybe some mammals such as rabbits, foxes, vicuña, and llamas.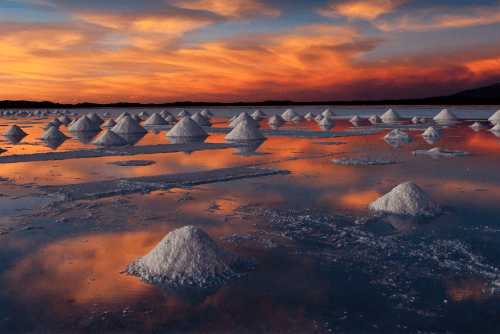 Before we leave the Uyuni area we will make a visit to the eerie "train Cemetery". Uyuni is served by a railway and in the past had plans to increase its network, hence many engines were imported from the UK. The plans didn't pan out and today the once magnificent machines sit rusting in their graveyard. A visit will not disappoint and the photo ops are superb.
Your day will then be spent soaking in views of colored lakes and lagoons, Hedionda Lagoon, for example, the unusual San Cristobal church (see the video below) flamingos and other wildlife, volcanoes, and mountain landscapes. Everywhere you look there is an impressive vista. Late afternoon sees us arrive at your hotel for tonight, the Tayka del Desierto. This hotel is literally in the middle of nowhere, very close to the Chilean border.
Google the location and select "Satelite View" to get a real idea of where you will be, the video below shows the hotel and some of the landscapes nearby. OK, it not fancy, but look where you are!
Day 5 | Colored Lakes, Hot Springs & Geysers
Today we venture even deeper into this high-altitude wilderness. Leaving the hotel we drive across the barren but beautiful Altiplano until we sight the iconic "Rock Tree". A photo with this rock weathered into the shape of a tree is a classic, and there are many other natural rock sculptures along the way too. After this stop, we visit the Laguna Colorada, a multicolored salt lake where Flamingos are a common sight.
We will visit a geothermal field next, the Sol de Mañana geysers, with the accompanying steam and bubbling. Then it's on to the hot natural springs in Polques where you can bathe if you wish. there is a place to change so why not take a dip in these lovely hot waters. After you have dried off and changed we will continue through the Dali Desert landscape to Laguna Verde. After spending time at this green lake, surrounded by impressive nothingness its back into the vehicle for the circuit back to Uyuni and the airport. You will take the short flight to La Paz and we will drive you to the same hotel where you were before for a well-earned rest.
Day 6 | Bolivian Titicaca, Copacabana and the Sun Island
We will pick you up from your hotel after breakfast and drive out into the countryside and through rural villages. After a couple of hours, you will enjoy the very unusual experience of crossing a narrow Strait of Tiquina, but not on your bus. The bus goes onto a motorized raft and you cross on a small passenger boat, taking your valuables with you. It is slightly bizarre and you will take plenty of photos and videos!
After reboarding your bus we drive to Copacabana, where we will have a quick look around the village before boarding our yacht to sail to the Sun Island, the fabled birthplace of the Inca nation. You will spend a couple of hours on the Isla del Sol visiting some points of mythical and cultural interest. After your time here it's back onto the boat for some lunch while sailing to a different port from where we will drive to La Paz. In the Bolivian capital, we will drop you off at your hotel with the time to be ready in the morning.
Day 7 | Fly to the Amazon Jungle, out to the lodge
As with any of the Amazon jungle trips we run in Bolivia, Peru, or Ecuador, the journey just to get to the lodge is a great adventure in itself. We will transfer you, quite early in the morning, from your hotel in La Paz to the airport for the very short flight to the jungle town of Rurrenabaque. This scenic 40-minute flight drops off the Andes and you are very soon over the huge green swathe of trees. Upon arrival in "Rurre" we will take you to the port to board your motorboat and start the journey to the lodge.
We will be navigating the Beni and Tuichi Rivers to reach the lodge, and as this journey is upstream it will take around 5 hours to get deep into the forest. When we come back the journey will only take around 3 hours as you are motoring downstream with the current. This journey is a chance to soak in the rainforest "feel" see some local people doing what they do and spot some animals and birds en-route. When you arrive at the lodge you will have a briefing, be assigned to your rooms, and have an excursion before dinner and drinks.
Day 8 | Full day of activities in the Amazon
You will have a full day of excursions today. After breakfast, we will take you off on a jungle walk for around 3 hours where you will try to spot animals and birds, plus be taught plenty about the unique ecosystem you are walking through. In the afternoon you will firstly walk to an elevated viewpoint for some panoramic views of the rainforest. Then it's into canoes for a paddle on the Chalalan Lake and you never know what you might see.
In the evening we will take you on a night walk. Being out in the Amazon jungle at night is a magical experience, every sound is magnified and you never know what will be picked up by your flashlights. Either as we walk or paddle in canoes your guide will shine his light into the trees and undergrowth trying to see the reflection in the eyes of some creatures. We personally never pass up the chance to go out at night.
Day 9 | Leave the Amazon and back to La Paz
If today is your last day on one of our tours in Bolivia we will transport you downstream after breakfast, arriving in good time to take your short flight from Rurrenabaque to La Paz. From here you can visit any of the other places we mention below, or combine with another country, Peru is a great extension, for example, and our Peru and Bolivia tour is very popular for good reason.
Two extra destination options for tours in Bolivia:
Sucre
It is difficult to imagine that any city other than sprawling La Paz could be the capital of Bolivia, but quaint Sucre is where independence was proclaimed and is the constitutional capital. While La Paz is in effect the seat of government and the treasury, Sucre is the nation's treasured heart. It is the most beautiful city in Bolivia and is found in a lush valley surrounded by mountains blessed with an array of whitewashed buildings with flowery interior patios, the city preserves a great deal of fine colonial architecture. It was declared a Unesco World Heritage Site in 1991. It also boasts the largest collection of dinosaur footprints in the world, just 5km from the city.
Potosi
Despite massive search efforts the conquistadors never found the fabled El Dorado, the city of gold, but they did get find and exploit the Cerro Rico, a 'Rich Hill' full of silver in Potosi. This high altitude city was founded in 1545 as a consequence of this discovery of precious metal. The silver extracted from the mine here came at a high human cost but was essentially bankrolling the Spanish empire.
In the boom years, the metal must have seemed endless and Potosí became the largest and most wealthy city in the Americas. The city went into decline when the huge outflow of silver started to dry up, and its citizens slipped into poverty. The ore, plus tin, lead, and other minerals, is still being extracted by miners in some terrible conditions. A visit to the mine is one the most controversial tours in Bolivia so please ask us about it if you are interested. The great churches and ornate colonial buildings are not controversial and will be greatly enjoyed.