Uyuni Salt Flats | Day Trip or 3-Day Circuit
This huge expanse of white crust stretches off to the horizon, and when it rains it becomes a massive mirror. The Uyuni salt flats are the largest in the world, 100 times larger than Bonneville. But a trip to the Salar de Uyuni area of Bolivia is not just about the salt flats, the surrounding high desert scenery is absolutely beautiful and will never be forgotten.
The largest salt flats in the world, geysers, and high desert
Private 4 x 4 vehicle and guide, full board during the circuit
Salt hotels and remote lodges, comfortable in the middle of nowhere
Landscapes to die for, never to be forgotten experiences
Train graveyard, Incahuasi Island, Dali Desert, and much more!
This 3-day circuit can also start or end in San Pedro de Atacama in Chile.
Day 1 | Fly from La Paz & start Uyuni salt flats tour
We will transfer you to La Paz airport for your early morning flight to Uyuni. After 45 minutes in the air, you will land in this remote, high altitude town and be picked up in our 4 x 4 vehicle to start your Altiplano adventure.
Firstly we will head out across the salt flats visiting any points of interest we see en route to the tiny settlement of Coquesa. So there will be stops to take photos, such as at the Ojos de Agua, or if we see any birds or animals en-route. In Coquesa we will visit the mummies in their lofty resting place and climb to a viewpoint for great vistas of the great expanse of salt and the imposing Tunupa volcano.
Then we drive out into the white crust again, heading to a tiny island covered in cacti right in the middle of the salt flats. You will be blown away by the "middle of nowhere feeling" while traveling in this incredible landscape. However, when you arrive at Incahuasi Island be prepared to see plenty of other people and a gaggle of vehicles. The spot is a popular one, you will see why.
We will refuel you with simple breakfasts, lunches, and dinners during your time with us on this 3-day circuit. Lunchtime might be a picnic along the route al fresco. Our schedule is somewhat flexible as you have the vehicle to yourselves and we will try to pick great spots to eat. After you have blasted your camera batteries at Incahuasi its back into the 4x4s and off across the salt crust to our hotel in Colchani.
We will arrange for you to stay in one of the salt hotels close to Colchani. These hotels have been constructed from salt bricks for the most part, and have a charm and quirkiness you will love. The photos above give you a taste of what they are like.
Day 2 | Drive out & overnight in the high desert
Today we head out into the high desert, we will drive for a few hours through stunning landscapes, stopping frequently at points of interest. The route will provide a number of volcano and high-altitude lake views. Flamingos should be spotted along the way, plus maybe some mammals such as rabbits, foxes, vicuña, and llamas.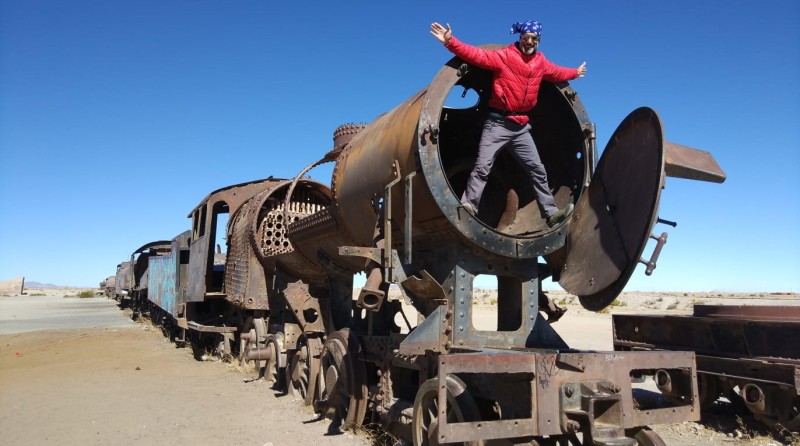 Before we leave the Uyuni area we will make a visit to the eerie "train Cemetery". Uyuni is served by a railway and in the past had plans to increase its network, hence many engines were imported from the UK. The plans didn't pan out and today the once magnificent machines sit rusting in their graveyard. A visit will not disappoint and the photo ops are superb.
Your day will then be spent soaking in views of colored lakes and lagoons, Hedionda Lagoon, for example, the unusual San Cristobal church (see the video below) flamingos and other wildlife, volcanoes, and mountain landscapes. Everywhere you look there is an impressive vista. Late afternoon sees us arrive at your hotel for tonight, the Tayka del Desierto. This hotel is literally in the middle of nowhere, very close to the Chilean border.
Google the location and select "Satelite View" to get a real idea of where you will be, the video below shows the hotel and some of the landscapes nearby. OK, it not fancy, but look where you are!
Day 3 | Colored Lakes, Hot Springs & Geysers
Today we venture even deeper into this high-altitude wilderness. Leaving the hotel we drive across the barren but beautiful Altiplano until we sight the iconic "Rock Tree". A photo with this rock weathered into the shape of a tree is a classic, and there are many other natural rock sculptures along the way too. After this stop, we visit the Laguna Colorada, a multicolored salt lake where Flamingos are a common sight.
We will visit a geothermal field next, the Sol de Mañana geysers, with the accompanying steam and bubbling. Then it's on to the hot natural springs in Polques where you can bathe if you wish. there is a place to change so why not take a dip in these lovely hot waters. After you have dried off and changed we will continue through the Dali Desert landscape to Laguna Verde. After spending time at this green lake, surrounded by impressive nothingness its back into the vehicle for the circuit back to Uyuni.
If you are flying out of Uyuni this evening we will take you to the airport and check you in. There are two other options for endpoints on this Uyuni salt flats tour though, Tupiza in Bolivia or San Pedro de Atacama in Chile. We can link this trip with other South America locations and place them around your Salar de Uyuni section. Please talk to us about these options.