There is more than just one Inca Trail
Anyone who is interested in visiting Peru and hiking has heard of the classic 4-day Inca Trail trek to Machu Picchu. It is one of the most famous hikes in the world and a lot of attention is given to it, quite rightly. It is indeed a spectacular and historic trek through beautiful scenery, passing Inca ruins and arriving at the sun gate to view Machu Picchu from above as the clouds part and the sun rises. If you have the chance you should do it, no question, but its not the only Inca trail you can hike!
The multi-day trek alternatives to the classic Inca Trail are the Lares trek and the Salcantay route, these are booked when the more famous trek is sold out. But the area around Cusco itself is littered with small ruins and ancient Inca Trail routes that won't cost you a penny to hike, other than a guide if you feel it is necessary. We always insist to our clients that a couple of days acclimatization is taken prior to starting the full hikes so what could be better than a half, or full-day walk around Cusco to prepare even better and get off the beaten track.
Get Off the Beaten Track Around Cusco
Last Saturday morning we decided to walk from the office, up the valley side towards the Temple of the Moon and join the Inca trail that would once have led from Cusco to Pisaq via the Corao pass. It is estimated that the Incas built around 40,000 Km of these pathways ranging from 1 to 4 meters in width and surfaced so that people, pack animals and soldiers could travel relatively easily from one end of the empire to the other. We were just carrying our day packs but the steepness sometimes hits you hard, the Incas were a tough, fit breed it seems!
After climbing out of Cusco, passing Inca carved rock shrines that used to be in the countryside but are now well within the urban area, you reach the start of a restored trail 3 to 4 meters wide. This trail takes you up and over the plateau (which is quite uphill really) for 2 – 3 hours of walking until you reach the pass above the village of Corao. There are lots of options for just branching off the path and heading into the surrounding fields, mixing a little with local people, and seeing what day-to-day rural Peru is like. It is bizarre that only a mile or so away from the edge of Cusco you feel like you are in the middle of nowhere and can be literally the only person at small Inca ruins as we were when we arrived at Inca Carcel. This infrequently visited ruin is set in a lovely rural valley very close to Cusco but virtually no tourists get to see it.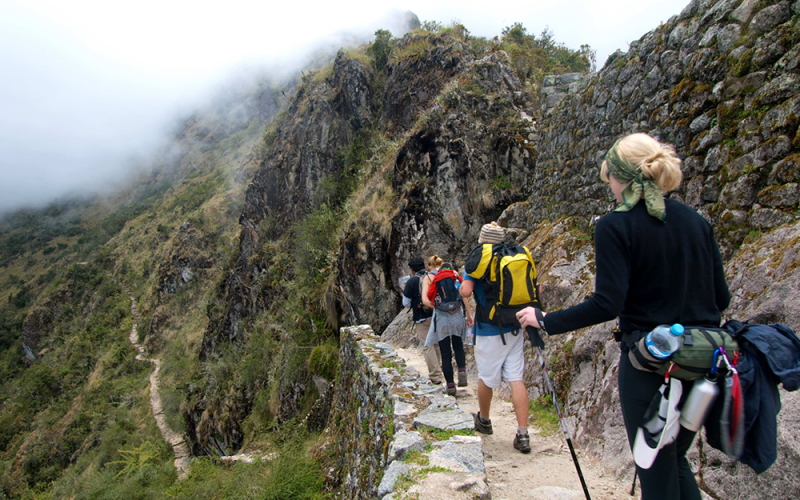 We try to get our clients to see as many of the mainstream, spectacular sites as possible when they are on tour with us but if they have a day or two extra then we can certainly suggest unusual or off the beaten track visits. Day walks such as these will take you along Inca Trails that 99% of people will never get to see and provide you with unusual experiences that will stay with you forever!