Visiting Argentina | Mendoza versus Salta
We are slightly biased after having lived in Salta for nearly two years but I will try to put that aside to give wine and outdoor adventure lovers a brief overview of both of these great destinations in the Mendoza versus Salta debate. We often have clients with an interest in wine asking for Mendoza, and for us to include some outdoor activities also. Not many people ask for Salta however, until we direct them to the region. There are a number of advantages for both so let's have a quick look at these below: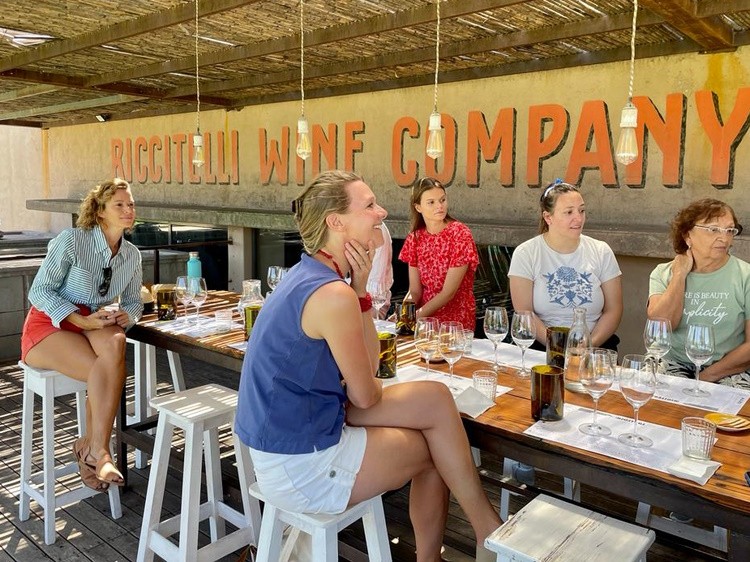 For Wine Lovers
Mendoza is the world-famous wine powerhouse of Argentina, with one particular sub-region being the most highly acclaimed in the country, the Uco Valley, which is located around an hour's drive south of the city. There are hundreds of wineries in the Mendoza region, and this high concentration allows you to choose a base, which could be the city of Mendoza itself, or Chacras de Coria or the Uco Valley for example, and then take day trips out from there (avoiding moving a lot and unpacking and packing, which is an important consideration for many). There is an impressive array of winery restaurants and a wide selection of accommodations to choose from across the full price range.
If you are solely interested in wine tours and tastings then without a doubt Mendoza is the best place to be. You could easily spend a week visiting the area, eating and drinking to your heart's content, and still only visit a very small percentage of the wineries open to the public. You can visit industry big hitters, very famous names, or some small-scale places and unheard-of boutique-type wineries, enjoying tastings, and pairing lunches. Choose between high-end sophistication or more rustic experiences in a never-ending landscape of wineries.
The Salta region, on the other hand, has sub-regions that are further away from the gateway city of Salta. To enjoy the wineries in the very North of Argentina you will need to travel away from the regional capital, spending a few nights in small towns and villages. This means taking your luggage, or at least a part of it, as we can arrange for anything you don't need to be left in Salta so you can travel lighter. Travelling around and staying away from the city for a while is a major bonus in this part of the world as the landscapes en route are breathtaking.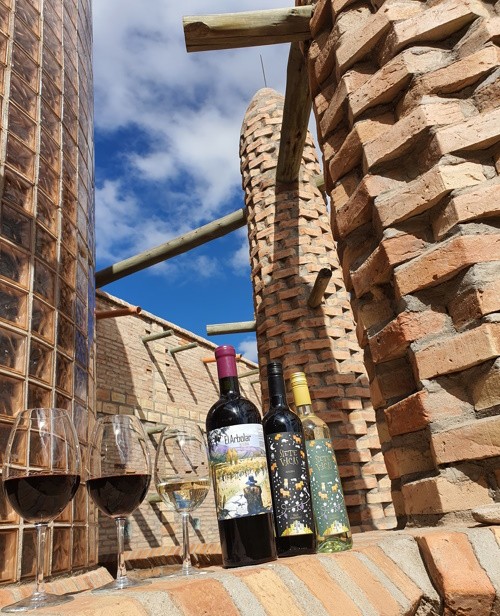 Cafayate is the main hub for wine lovers in the North of Argentina. The town and its surrounding area are home to dozens of wineries, nothing like the quantity and density of Mendoza, but certainly enough to keep you entertained for a few days. In contrast to Mendoza the wineries are generally smaller here, allowing us great access to winemakers and owners.
Humahuaca is the second sub-region we recommend for wine lovers in the North of Argentina, home to the highest wineries in the world. There are not many wineries in this area but when they are combined with cultural experiences and outdoor activities this is a fantastic place to spend 2 or 3 days.
For Adventure Lovers
Mendoza offers easy access to the Andes, and indeed to the highest mountain in the Americas; Aconcagua. This huge lump of rock reaches up to 6951 meters above sea level (22,805 feet). The mighty Andes Mountains offer some superb trekking and adventure activities such as rafting, mountain biking and zip lining and these can easily be blended in between your wine tour days for a very comprehensive package.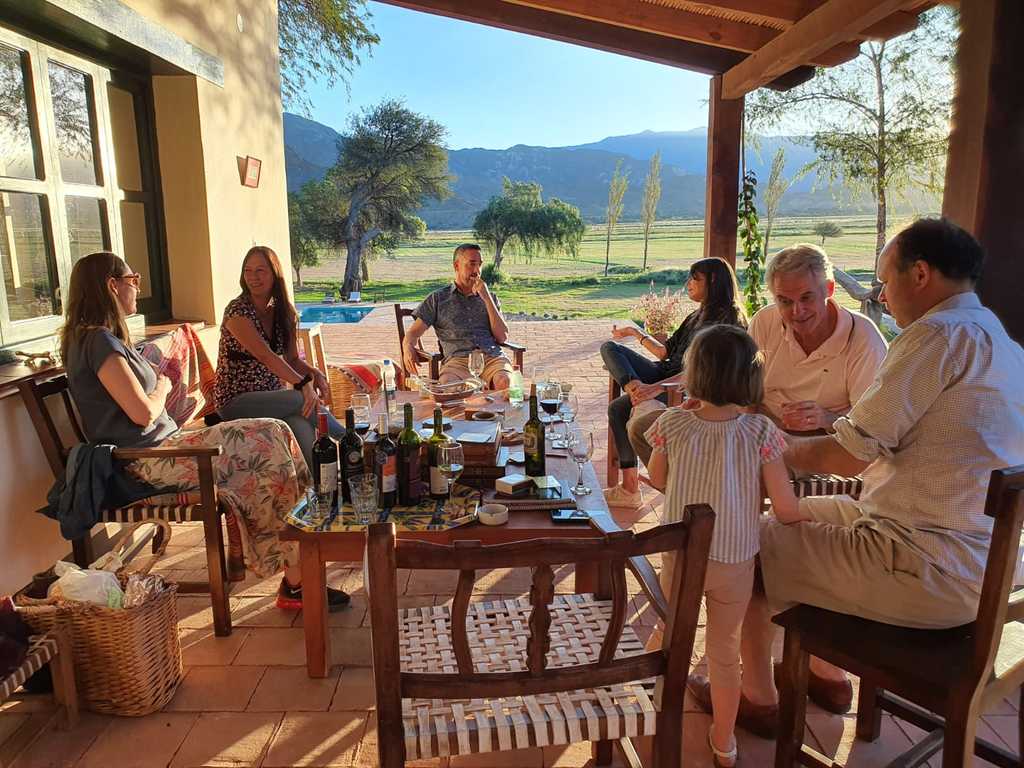 While the landscapes are very impressive in the mountains around Mendoza you would be hard-pressed to find many more beautiful places than the valleys around Salta. Nature lovers, outdoor enthusiasts and wine drinkers will all be very happy, and this region wins the battle in our opinion. History, gastronomy, a strong cultural identity and traditions, superb, high-altitude wine and mindblowing landscapes – this region has it all. Add to this some lovely hotels and Estancias (rural ranches) to stay at and you really cannot go wrong. Check out the short report on a newly discovered renovated Estancia at the bottom.
Connections to Other Destinations
Both Mendoza and Salta offer connections to other interesting parts of Argentina, and also internationally. Both cities are linked by direct, internal flights to the capital city of Buenos Aires, which should be on everyone's bucket list. Buenos Aires can be used as the gateway to the country, and a couple of days should be spent in this faded beauty of a place, enjoying Tango, huge steaks and people-watching from kerbside cafes.
Mendoza has the advantage of being just a 45-minute flight from the capital of Chile, or a 7-hour public bus ride over the Andes. Chile is the other heavyweight of South American wine production and another home to stunning landscapes. It is blessed with places like Patagonia, Atacama and the mystical Easter Island. Understandably the option to combine Mendoza with Santiago is quite popular among wine enthusiasts.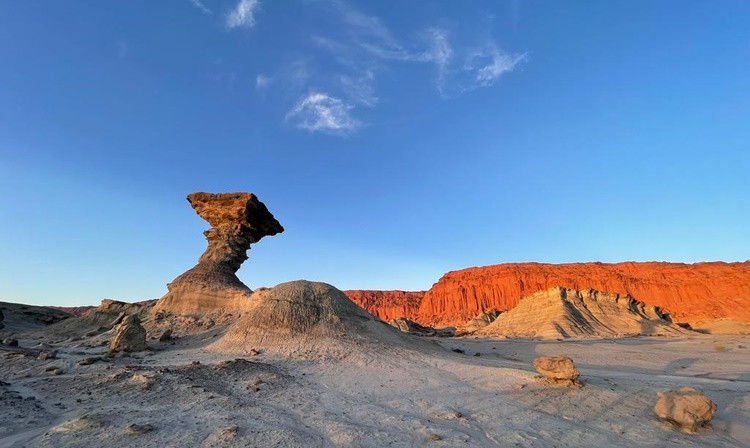 From December of this year (2023) Salta will once again be linked to Lima, Peru with a direct flight. With Peru being a very popular destination and Lima being a major flight hub, this is very good news for travellers. There are also direct flights to Iguazu Falls from Salta, another bucket list visit for many.
We also offer, via our wine tourism website, an epic overland road trip from Salta to Mendoza or vice versa which is becoming more and more popular. This gives visitors, with enough time open to them, the chance to enjoy the many historical sites, natural parks and wineries scattered along this lovely 5 or 6-day route. No need to pick sides in the Mendoza versus Salta debate, do them both.
New Find | Beautifully Renovated Estancia near Molinos
Molinos is a village on the alternate Salta to Cafayate route, a sleepy little place in the middle of nowhere, famous in wine circles for the Colome winery. Travelling a little further into the middle of nowhere, crossing a river by driving through it, we find the Estancia owned by Jan. A lot of money has been spent to renovate the original buildings and we visited just after a lot of work had been recently completed. The estancia is a working ranch and still has a few final touches to be made for tourism. As you can see the place looks fantastic and they were having soft openings to try the rooms and service out, hence our invite.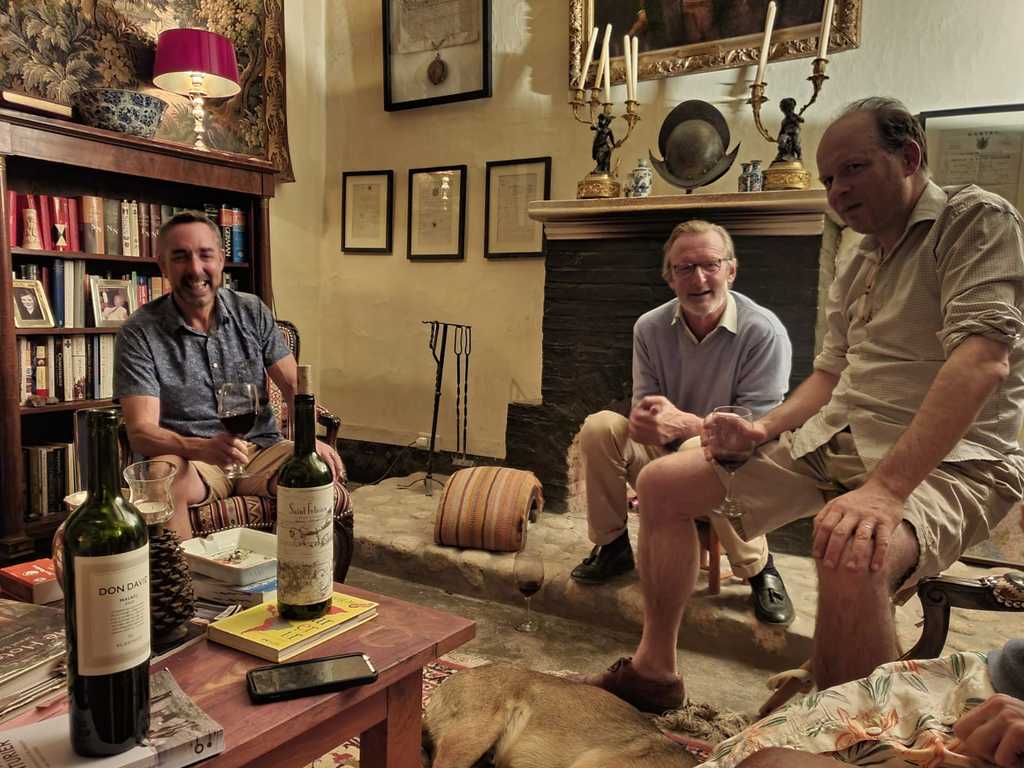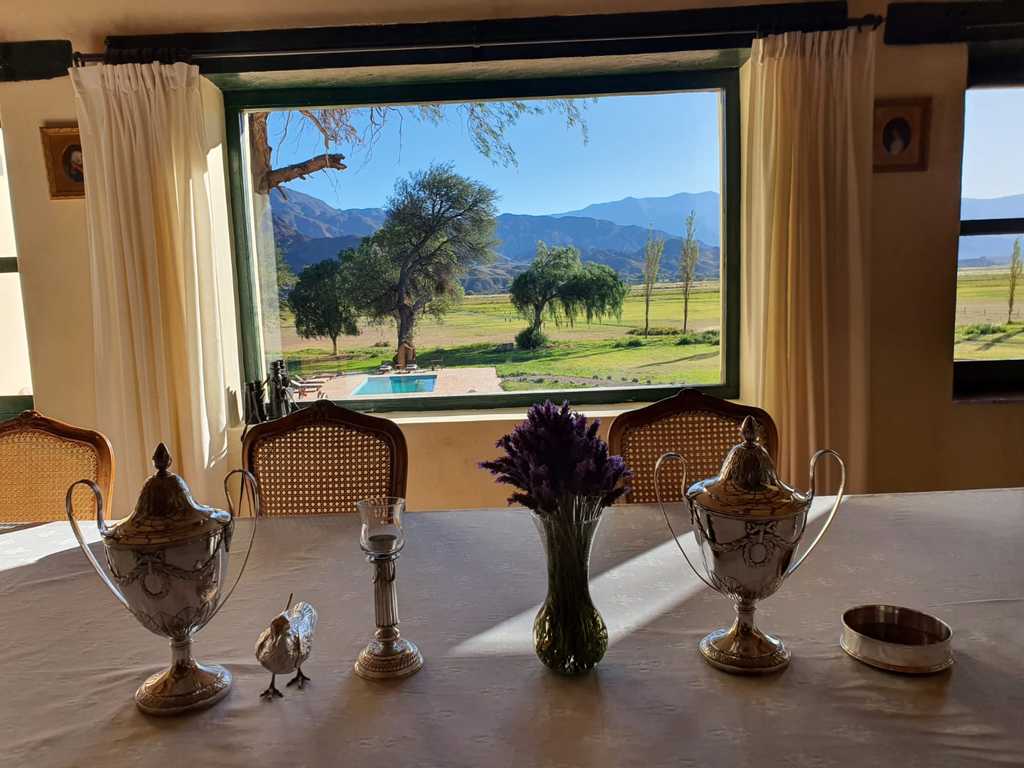 Jan is a real character and adds a definite gravitas to the visit, the food is great, as is the service. The common areas exude a lot of family history and there will be stories told for sure. From this base you can explore wineries, artisans working on weavings, trek into the semi-desert, enjoy horse riding or just kick back on the veranda or by the pool with a glass or two.