Explore | Eat | Drink | Learn
There are so many options for foodie tours in South America. If you like to try new foods then Peru, Colombia, Argentina, and Chile, to name just a few, are the places for you. Below we have a small selection of the delicious tours in a few of our popular destinations, but there are many more of course. Pick something you like or let us suggest something that fits with your tour destinations and personal interests.
1. World-famous Lima gastronomy – This is the place to eat.
Don't eat too much at breakfast! There is no doubt that Peruvian food is now on the world food map so a Lima foodie tour is the thing to do when you arrive in the land of the Incas. Our staff always knew that the Peruvian capital presents a real treat for your taste buds, but now that Lima is consistently being voted the best culinary destination in the world, everyone else knows it too.
There are a great number of options for your taste buds. Eat at elegant world-class restaurants with dishes created by some of the best chefs on the planet, enjoy a market tour to see the raw material, historic back street sandwich places, and boutique eateries. Let us know your interests.
2. Rio de Janeiro – Backstreet bars you would never find.
Our local guides have spent years finding the best bars, restaurants, and nightlife hot-spots in town as fashion and trends change. From the gritty bars in backstreets to funky concept bars to authentic samba clubs. Rio's best daytime food tour can be enjoyed, and then continue on in the evening. Or this can marry with your daytime sightseeing to the Corcovado or Sugar Loaf. Our bar-hopping experience that will give you a taste of the real bar culture of Rio.
Over the course of 4-5 hours, you'll leave the touristy districts where your hotels are and visit a series of great places in the northern part of the city, a little outside the normal route for visitors. You'll enjoy locally brewed beers, perfectly mixed caipirinhas, zingy and potent batida fruit shots, a selection of cachaças, and a few surprises are thrown in for good measure. There'll also be plenty of delicious food so you won't be going home hungry!
3. Tango and Dinner – Buenos Aires
Taking in a tango show in Buenos Aires is one of the best evenings you will spend in Argentina in our opinion. Eating a great meal with lovely wine while you are enjoying this fantastic spectacle is even better. We will pick you up from your hotel and drive you to the Tango venue, which will be one of several we recommend. You will have great seats for the show and dinner will be served a little before the show starts, with a bottle of wine of course. When the evening is over we will transfer you back to your hotel where you might need a stroll before sleeping.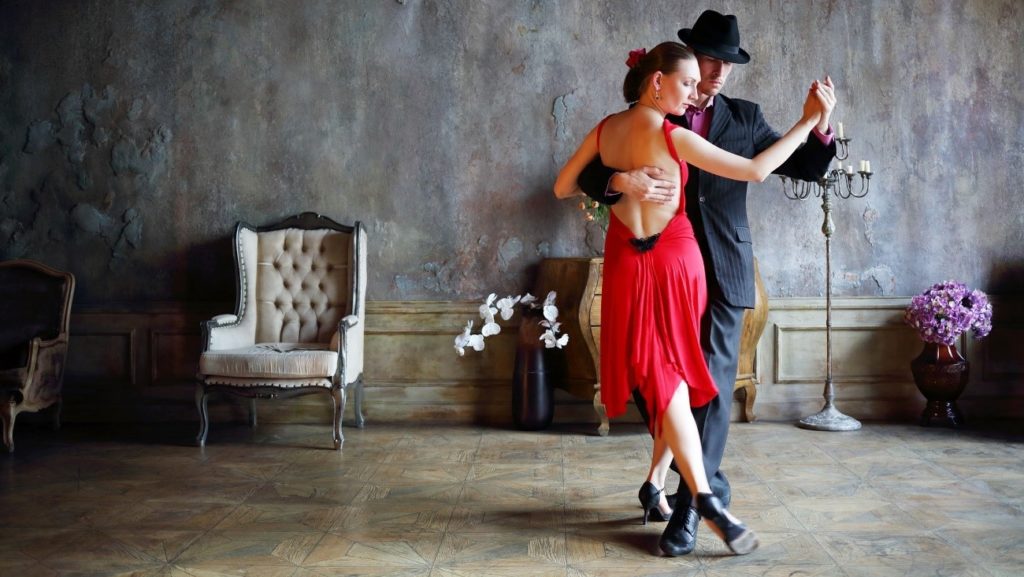 4. Buenos Aires – San Telmo Foodie Tour
The San Telmo tour is for those visitors who love historic architecture and have a desire for a little adventure. This district of Buenos Aires is bohemian, rustic and feels edgy, it is a real treat to wander around and you will see sporadic Tango shows in the street as we wander. We will begin near the Mercado de San Telmo for a homemade empanada at a family-owned place. After exploring the market and seeing Argentine butchers in action, we have the classic street food of Argentina, the choripan. Probably the main event is our time spent at one of the best and oldest Buenos Aires parrillas to try Provoleta, which is two cuts of steak, salad, and Malbec. We end the culinary tour up at a small ice cream parlor, or heladeria, well known for their selection of homemade ice cream flavors.
5. Chiloe Island – Chile
We love the island on Chiloe, the journey to get there, the "stepping back in time" feeling, the characters, the palafito houses, the wooden churches, the scenery, and the food. You will likely visit the island from your base in Puerto Varas, the hub for the lake district. Spend a night or two on Chiloe to get the best from it. We will take you to markets, fishing villages and small, rustic eateries at varios points. Seafood will feature highly, and the local speciality of Curanto is a must.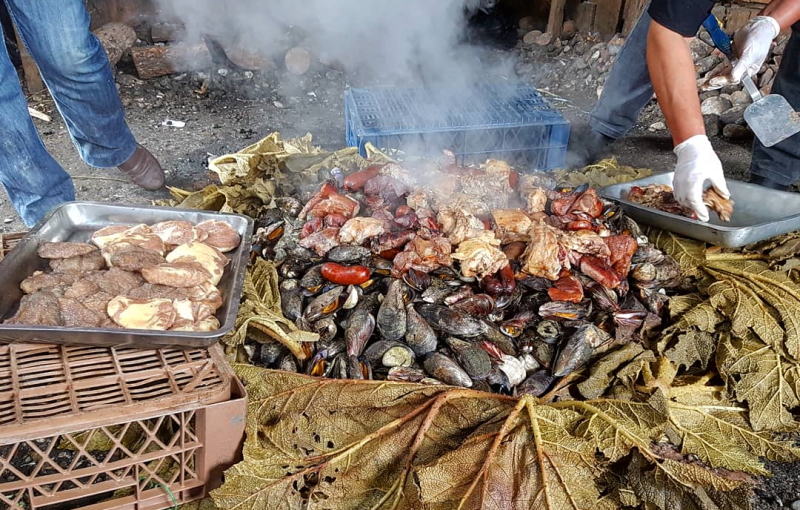 Curanto is an important dish in this part of the world, and the way it is prepared is similar to Pachamanca in Peru. The ingredients are buried in a hole in the ground and accompanied by very hot stones heated in a bonfire. The hole is then sealed, covered in leaves, and left to cook for a few hours. Curanto is a mixture of many Chiloé staples; shellfish, pork, a kind of potato pancake, fish, vegetables, and dumplings. Unusual and delicious and forms part of one of the best foodie tours in South America in our opinion.
6. Patagonia – Chile & Argentina
On both sides of the Andes mountains, Patagonia is a truly beautiful place. Wherever you travel spectacular views of mountains, volcanoes, forests, lakes, and glaciers are afforded to you. As a lover of the outdoors this is the place for you, and after a day hiking, kayaking or biking you will come back to your hotel to try one of the regional specialties. As you might imagine in a cold environment, meat is high on the agenda. Argentina is famous for its meat, of course, the Asado BBQ.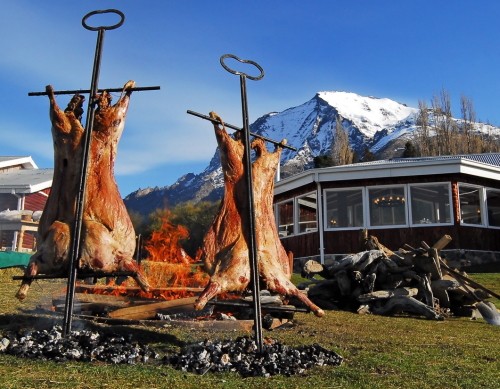 The roast Lamb dish "Cordero al Palo" that you see above is a quintessential Patagonian, and is heavily linked to the Gauchos (in Argentina) and Huasos (in Chile). It sounds slightly unpleasant as the entire lamb is cut vertically down the torso and stretched over a cross or rack of iron, which is then stuck in the ground and inclined over a fire pit.
The meat is roasted vertically and this method allows the lamb to cook evenly while the fat drips off to baste the meat while cooking. In Patagonia, it could be said that food is a ritual, and the whole process of cooking "al Palo" takes three or four hours. Along with the dripping juices, the meat is kept moist with regular brushes of water, salt, and a clove and garlic mixture called Salmuera. Once cooked, the lamb is served with Pebre, a sauce similar to Chimichurri.
7. Coffee Region – Colombia
The coffee-growing region of Colombia, or the Coffee Axis as it is known in Spanish (Eje Cafetero) is a lovely part of the world. Forget visiting coffee farms, for now, just being in this lush and naturally beautiful setting is a real treat. Any visit to this area will involve showing you waterfalls, palm tree-filled valleys, and gushing rivers. Then of course there is the coffee production which is extremely important to the country which is considered by many to be the best in the world. We will have you getting your hands dirty down on the farm if you wish. By the end of the tour, you will understand much more about how to identify ripe coffee cherries on the plant and about pulping, drying, and brewing the beans. Oh, and we might dress you up a bit!
Colombia is one the best destinations for foodie tours in South America, apart from the coffee you have a varied local cuisine with mountains of local produce from what is a very biodiverse country.
8. How do we get chocolate bars?
This we will answer in the lush surroundings of Mindo in Ecuador. A trip to this area can easily be added to your Galapagos and Quito tour and will open your eyes to how those delicious bars get onto the shelves. Informed chocoholics might already know of Mindo as a "chocolate town", where the country's finest organic cacao, sourced from smallholdings gets made into Ecuadorian chocolate. We will show you the entire process from fermentation to roasting and you will understand how Ecuadorian chocolate travels from "bean to bar." Not only can you get to taste truly organic chocolate where it is made but come away understanding everything that goes into it, from harvesting the cacao to fermenting, drying, and roasting. Obviously you will a decadent array of Ecuador chocolate tastings and pairings.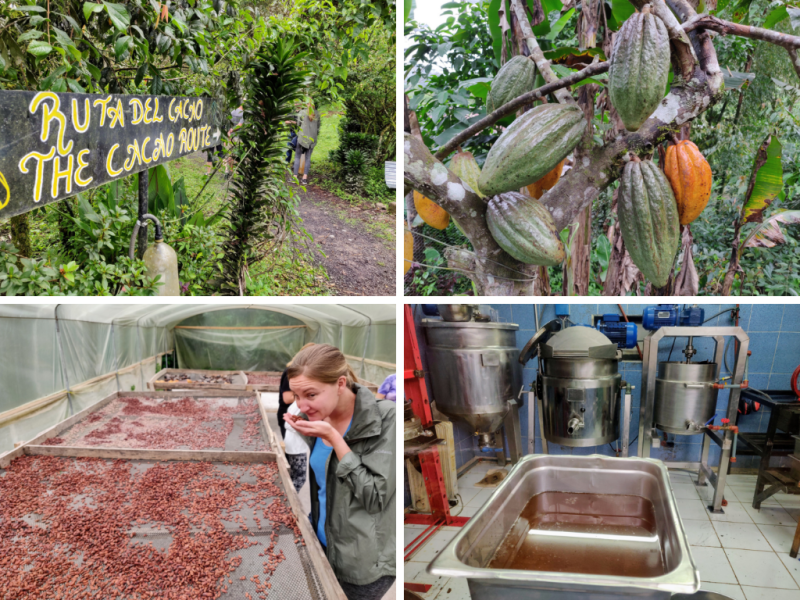 Above we have just talked about a few Foodie tours in South America, there are obviously many more. Each country has its specialty, and region to region there might be variations or completely new experiences. The best thing is to tell us what you like or ask us what can be added to a destination you are thinking about. Let us know by getting in touch here.