Lima Foodie Tour | A Treat for your Tastebuds
Be warned – Don't eat too much at breakfast!
There is no doubt that Peruvian food is now on the world food map so a Lima Foodie tour is the thing to do when you arrive in the land of the Incas. We at Escaped Travel have always known that the Peruvian capital presents a real treat for your taste buds, but now that Lima is consistently being voted the best culinary destination in the world, everyone else knows it too.
Peru is blessed with some great chefs that, armed with the massive range of ingredients at their disposal, have transformed the culinary scene and made Peruvian Fusion, NovoAndina, and Nikkei cooking styles world famous. We focus on 4 chefs below and mention their restaurants in case you want to try them while you are here - feel free to ask us to make you a reservation.
An honorable mention in addition to those below goes to the Huaca Pucllana, a truly spectacular location to enjoy a meal. How often can you eat next to a 1500-year-old mud pyramid?
1. Gaston Acurio - National Treasure | Food Ambassador | Pioneer | Future President?
This talented chef is the most recognizable worldwide with over 30 restaurants, 9 of which are in Peru. Our favorites in his portfolio are shown below - please ask us for our opinions as there are plenty of variations in style, cuisine, and price. With so many options in Lima, with some in Cusco and Arequipa that you could eat "Gaston" for your whole trip. Free corkage on the first bottle of wine we love too. Gaston could well be President of Peru in the future, he is that popular. In our opinion, he would be a good choice.
Astrid & Gaston | La Mar | Panchita | Tanta | Madam Tusan | Chicha | El Bodegon
2. Virgilio Martinez - Innovator | Artist | Biodiversity Celebration | Rising Star
The Miraflores restaurant of chef Virgilio Martinez, who is also known for the Michelin starred restaurant LIMA in London, Central has a steadfast position among the best restaurants in the world, named Latin America's number one restaurant in 2017, while coming in at number five in the World's 50 Best. Through the contemporary Peruvian dishes he creates, Martinez introduces diners to the diversity of ingredients found across Peru, celebrating the country's biodiversity from the rainforest and coast to high up in the Andes. The inventive tasting menus here are seen as a gastronomic exploration of Peru.
3. Rafael Osterling - Hunk | Worldly | Influencer | Cutting Edge Innovation
With restaurants in various styles, this chef shows his interior designer or architect talents. If he wasn't a chef he says he would have followed one of those professions instead. He currently runs the eponymous award-winning Rafael, the Felix Brasserie, and manages the explosion of seafood at El Mercado. Each one is quite different and well worth a visit, ask us to book you well in advance as the waiting list might be a long one.
4. Mitsuharu 'Micha' Tsumura - Nikkei Pioneer | Self Made | Innovator
When Peru meets Japan on the plate, Nikkei is born and we get the Maido restaurant. Chef Mitsuharu 'Micha' Tsumura is the absolute Nikkei king. His welcoming eatery is very well located in Miraflores and is where fresh fish and citrus-packed sauces reign supreme. Little wonder it was voted The Best Restaurant in Latin America in both 2017 and 2018. To eat here you do need to book a long way in advance.
In order to provide an even better introduction to the gastronomy of this Andean nation, we have changed our Lima culinary tours to include some new locations and some new experiences. These tours are usually taken at the start of your time in Peru so you kick off your trip with some pure relaxation after your long flight and you can be launched off to Cusco and Machu Picchu fully recovered.
These tours take between 5 and 6 hours and visit the areas of Miraflores, Barranco, and San Isidro and include some places of historical and cultural interest as well as gastronomy. If you wish we can add the colonial center of Lima after this tour so you go away with a very rounded introduction to Lima in particular and Peru in general.
After being picked up from hotels our expert "Foodie" and historical guides will show you the bohemian district of Barranco first. Barranco was in a very poor state during many of the troubled years of Peru's past and during the 70s to the 90s the district fell into decline. With the defeat of terrorism and steady improvement of the economy over the last two decades or so Barranco has been re-born and is now a vibrant area, lovely to look at and full of restaurants and bars, many in historic buildings.
We enjoy a short walking tour of Barranco and end up in a historic coffee shop for some organic Peruvian coffee and an exotic fruit smoothie. Your guide will explain a little about Peru's coffee industry while you get your caffeine fix. Then it's back to the vehicle for a drive along the coastal highway to a market in San Isidro.
In this market you will see and taste all manner of fruit, some you will recognize, some you will have never seen or even heard of before….plus there are vegetables from all over the country and its many eco-systems. Part of the strength of Peruvian cuisine comes from the incredible variety of ingredients on offer from such great biodiversity.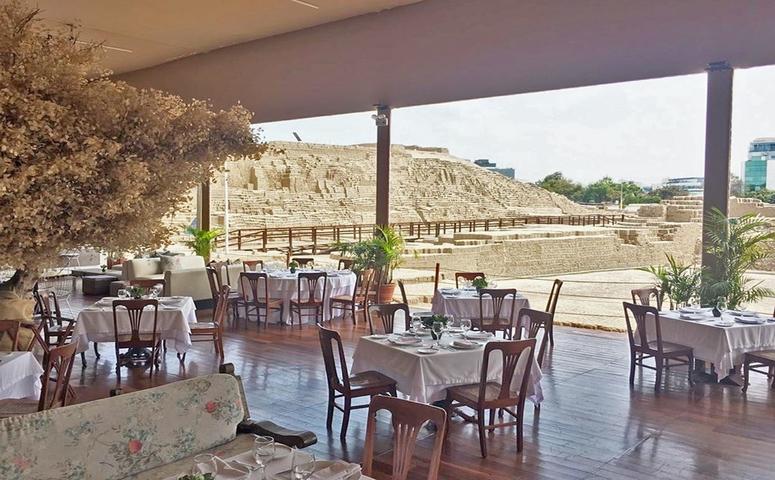 After the market, it's off to get involved in two Lima icons, the Pisco Sour and Ceviche. These two things are as important to coastal Peruvians as wine and Asado are to Argentines, they are a source of national pride and the making of them, although relatively simple, is an important process. We give you the chance to mix your own Pisco Sour cocktail and then, under instructions, of course, prepare a classic ceviche. After enjoying the fruits of your labor (and feeling increasingly merry!) we step back 1500 years at the Huaca Pucllana pyramid where one of the most spectacular restaurants awaits you.
If you have visited iconic sites around the world, the Pyramids in Egypt, Chichen Itza, the Great Wall, Angkor Wat, etc you will be well aware that you can't rock up and grab a seat for lunch virtually touching them…far from it. Here you can! What a treat the view is and the food doesn't disappoint as you can imagine.
We run through a tasting session of various dishes, choose a local beer, cocktail, or glass of wine and then sit back, very full indeed, to enjoy the view. Tomorrow we will pick you up to continue your Peruvian experience and when you get into the highlands and Cusco maybe you can try Guinea Pig on a stick?