Hotels in Torres del Paine National Park
Below we have an overview of our preferred options for hotels in Torres del Paine and the important gateway towns of Puerto Natales and Punta Arenas. Due to the remote nature and popularity of this beautiful national park, nothing is at the budget end of the scale but having traveled all the way down here why shouldn't you treat yourself to a very comfy stay so you can enjoy the experience even more.
Within the Torres National Park (or very close!)
These hotels obviously have the most privileged location and command a higher price as a result. You will be in the heart of the national park and hence much less travel time for excursions. The views from the rooms and common areas absolutely cannot be beaten. The numbers below are not a ranking, just the order in which we inspected them.
1. Hosteria Pehoe
The first time we saw this hotel it was from a viewpoint way above the lake and the thought was, "Wow, what a location!" As you can see in the photo below the place is perched on its own small island with a fantastic view over the water to the iconic mountain ranges. Connected to the shore by a long wooden footbridge you won't be bothered by cars. This makes the stay feel even more remote and exclusive.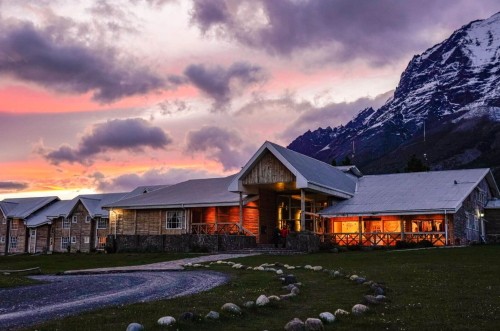 The hotel has been designed to blend in with its surroundings. The pitched roofs and wooden cabin-style architecture look perfect against the amazing backdrop. Inside wooden floors and paneling give the place a welcoming warmth and coziness that is especially appreciated when it is freezing outside at night. It's not a luxury hotel, and the facilities may be more basic than others in this section, but what a view that is at breakfast.
2. Explora
This luxury hotel feels like it should be part of a James Bond movie set. Visually its a very interesting design, not really what you would expect in Patagonia perhaps, but it works very nicely. The rooms, common areas, and outside spaces are all impeccable as you might expect from a hotel of this category and price. The extensive use of wood provides a great feel and despite the size of the place it feels very cosy.

Comfort is guaranteed, the hotel is very well equipped and maintains a very high level of customer service and guest facilities. The Explora brand operates an all-inclusive system with all transfers, tours, guides, food, and drink included in the package. There is a wide choice of daily excursions to select from, anything from "soft" adventure through to more hardcore activity.
3. Las Torres Hotel
This hotel seems to be a mid-way point between the two options above and has a great location in the heart of the park. It has the rustic charm of Pehoe but with more luxury and a wider range of facilities (but not as many as Explora). There are several standards of rooms, all very well appointed and comfortable, there is a spa, plus a great restaurant and bar also. Other facilities include a gift shop, an organic garden, and stables for the many horses employed on some excursions.
In common with most hotels in the park, there is a broad menu of excursions for guests to choose from at Las Torres. Enjoy full and half-day activities such as walking, hiking, sailing, horse riding, and rock climbing Of course eating well and drinking great Chilean wine is a given.
In Puerto Natales
Puerto Natales is the closest town to the national park and day trips into Torres del Paine are possible. However, we suggest you use Puerto Natales as a staging post to launch into the park and stay. A night here before you enter the park will mean a more relaxed trip, and also give you chance to wander the town. As we say, day trips are possible but you will spend quite a long time in vehicles instead of being in the great outdoors.
1. NOI Indigo
This modernist structure sits in a superb location in town overlooking the fjords and mountains. Puerto Natales is an important port town so it is apt that the hotel looks like a warehouse or piles of containers. Inside it is very comfortable indeed and ticks lots of style boxes. Minimalist wooden features abound, along with a great restaurant and bar plus a spa with views to die for.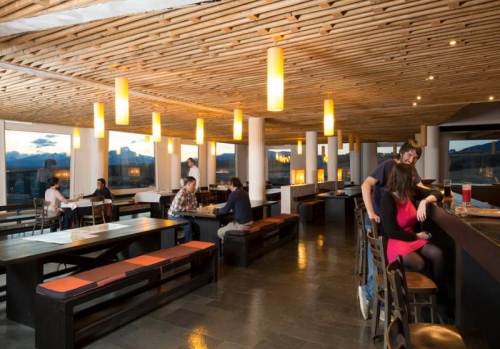 2. Remota
This is a step up in price over Indigo and is located slightly out of town. The first thing that will strike you is the design. The box-like structure is modeled on the old sheep shearing sheds of Patagonia, which are often slanted due to the strong winds down here. The roof is covered by real grass, providing natural insulation. Warm hue lighting and the liberal use of wood and other natural materials enhance the interior. Minimalist fixtures and fittings, stylish furniture, and huge windows all help with the feeling of being in a top-notch facility, and obviously service and comfort are never lacking.
In Punta Arenas
This is the city into which most clients will arrive by air in order to visit Torres del Paine as there are more flights than into Puerto Natales, but it is not just a gateway city, it has plenty to offer in its own right. For example, you could go whale spotting, or on an excursion to see sea lions and penguins as you explore the lovely Chilean fjords. There are some great restaurants, quirky coffee bars, and a microbrewery. Ask us about the options for hotels here.