Peruvian Food | Simply Heavenly
Peruvian food is the best in the world in our humble opinion, the French would disagree of course. But the fact that Peru has been consistently voted the "Worlds Best Culinary Destination" speaks volumes. Lima has several restaurants ranking in the top 50 worldwide, and many other fantastic eateries that are not listed (see below). Eating typical Peruvian food is a real treat and an important part of any visit to Peru.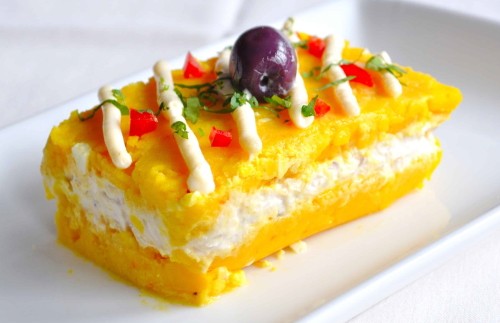 Peru is one of the most biodiverse countries on the planet. Half of the country is Amazon Jungle, then you have dense cloud forest, the snow-capped Andes mountains, high altitude altiplano plain, the very dry desert coast, and finally the fishing grounds of the Pacific Ocean. Combine all this biodiversity with the invention and passion of Peruvian chefs and you get a thing of beauty!
Peru is blessed with some great chefs that, armed with the massive range of ingredients at their disposal, have transformed the culinary scene and made Peruvian Fusion, NovoAndina, and Nikkei cooking styles world famous. We focus on 4 chefs below and mention their restaurants in case you want to try them while you are here - feel free to ask us to make you a reservation.
An honorable mention in addition to those below goes to the Huaca Pucllana, a truly spectacular location to enjoy a meal. How often can you eat next to a 1500-year-old mud pyramid?
1. Gaston Acurio - National Treasure | Food Ambassador | Pioneer | Future President?
This talented chef is the most recognizable worldwide with over 30 restaurants, 9 of which are in Peru. Our favorites in his portfolio are shown below - please ask us for our opinions as there are plenty of variations in style, cuisine, and price. With so many options in Lima, with some in Cusco and Arequipa that you could eat "Gaston" for your whole trip. Free corkage on the first bottle of wine we love too. Gaston could well be President of Peru in the future, he is that popular. In our opinion, he would be a good choice.
Astrid & Gaston | La Mar | Panchita | Tanta | Madam Tusan | Chicha | El Bodegon
2. Virgilio Martinez - Innovator | Artist | Biodiversity Celebration | Rising Star
The Miraflores restaurant of chef Virgilio Martinez, who is also known for the Michelin starred restaurant LIMA in London, Central has a steadfast position among the best restaurants in the world, named Latin America's number one restaurant in 2017, while coming in at number five in the World's 50 Best. Through the contemporary Peruvian dishes he creates, Martinez introduces diners to the diversity of ingredients found across Peru, celebrating the country's biodiversity from the rainforest and coast to high up in the Andes. The inventive tasting menus here are seen as a gastronomic exploration of Peru.
3. Rafael Osterling - Hunk | Worldly | Influencer | Cutting Edge Innovation
With restaurants in various styles, this chef shows his interior designer or architect talents. If he wasn't a chef he says he would have followed one of those professions instead. He currently runs the eponymous award-winning Rafael, the Felix Brasserie, and manages the explosion of seafood at El Mercado. Each one is quite different and well worth a visit, ask us to book you well in advance as the waiting list might be a long one.
4. Mitsuharu 'Micha' Tsumura - Nikkei Pioneer | Self Made | Innovator
When Peru meets Japan on the plate, Nikkei is born and we get the Maido restaurant. Chef Mitsuharu 'Micha' Tsumura is the absolute Nikkei king. His welcoming eatery is very well located in Miraflores and is where fresh fish and citrus-packed sauces reign supreme. Little wonder it was voted The Best Restaurant in Latin America in both 2017 and 2018. To eat here you do need to book a long way in advance.
Below are just a few of our favorites, but in fact, you could eat something completely different every day of a month spent here, you will never get bored, plus there are all the desserts and cocktails.
Ceviche
Ceviche (shown above) is considered a national icon and Peru's national dish for most. The name of this cold dish means "fresh fish" in Quechua and can be made using different varieties of fish, depending on region and chef. It is said that the marinating in lemon juice was first done to preserve the fish for fishermen to eat many hours into a fishing voyage.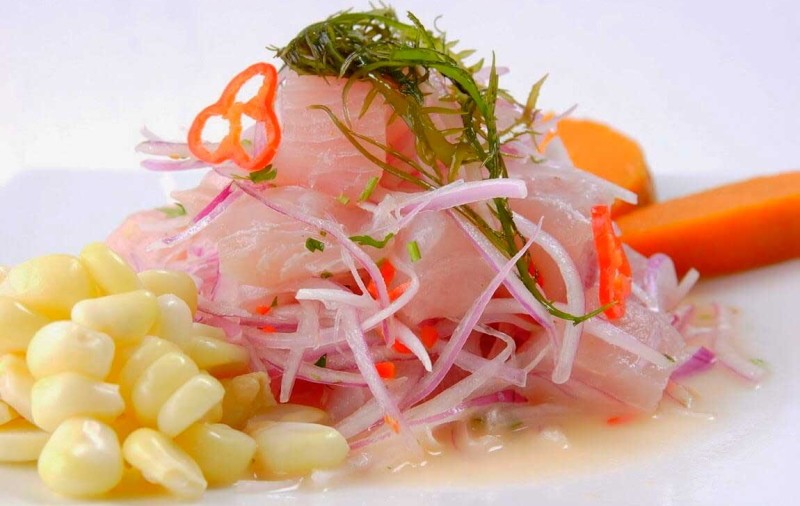 Uncooked fish is diced or sliced, marinated in lemon juice, then sprinkled with aji pepper and red onion, perhaps served with corn and sweet potato. The best place to eat Ceviche in Peru is on the coast where freshness is guaranteed, and Lima really has some fantastic restaurants to enjoy this dish. A trout or salmon version can be found in the highlands, which is a great variation.
Lomo Saltado
The fusion of Chinese cuisine and Peru food provides us with a delicious and very popular stir fry meat dish. In our opinion, this is the dish to choose if you are not so sure of the restaurant as there doesn't seem to be anyone who makes it badly. A large number of Chinese immigrants arrived in Peru in the 1800s and passed many new cooking techniques to locals, including how to stir fry.
Lomo Saltado contains an ample serving of stir-fried beef, red onions, peppers, tomatoes, and soy sauce. It is often served with fluffy white rice and fried potatoes in what is a fairly common theme in Peruvian cuisine, double carbs! The smoky taste gives the dish a BBQ touch and the blend of Peruvian spices and Chinese ingredients that create a unique flavor.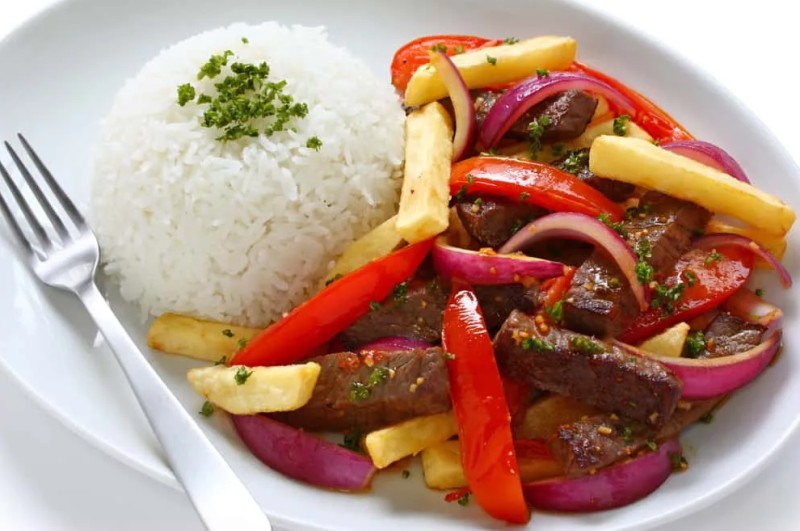 Aji de Gallina
Aji de Gallina is an everyday home-cooked dish that also appears on restaurant menus all over the country. Talk to anyone in Peru, and they will tell you that their Mom or Grandma makes the best Aji de Gallina ever. I have eaten the dish made by my mother-in-law, my wife, and lots of restaurants, and people know what they are doing with this dish. My wife's creations are my favorite though!
This golden-yellow colored dish is a creamy curry-style dish made with shredded chicken. The salsa is made from walnuts, pecans, cheese, garlic, onion, and Peruvian yellow aji pepper (hence its name). It may be that in touristy restaurants the spiciness is dumbed down a little, but the chili and other spices added help this go from mild to very spicy depending on your tastes. It is usually served with white rice, sliced boiled eggs, and maybe potatoes.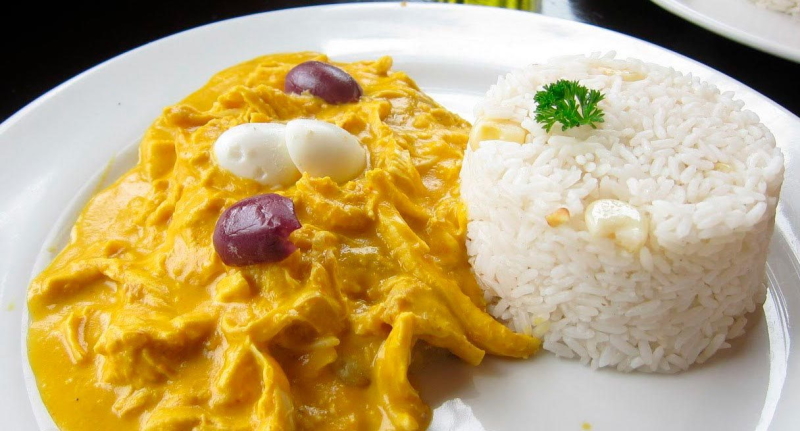 Rocoto Relleno
Rocoto Relleno not only tastes good but it looks great too, as you can see above. This dish is made from a hollowed-out spicy red pepper stuffed with vegetables, sautéed meat, and topped with a lot of cheese (Arequipa style) or covered in deep-fried batter (Cusco style). It is served with rice, some sliced hard-boiled egg, and a few of the HUGE black olives that Peru produces. Wherever we go in the world my wife complains about the olives, they are just never as big or tasty as in Peru, I have to agree. Some higher-end restaurants, like one of our favorites Panchita in Lima, serve the dish with potato pie on the side, just fantastic.
The list goes on…and on!
We could continue for a long time, detailing each dish but we won't. Come and visit us down here in Peru and try this fantastic food in its home or find a Peruvian restaurant near you to get started. This blog from Amigo Foods gives you a great rundown of more dishes and where you might find Peruvian food close to you. But before we end here we have to mention the most polarising Peruvian dish, Guinea Pig.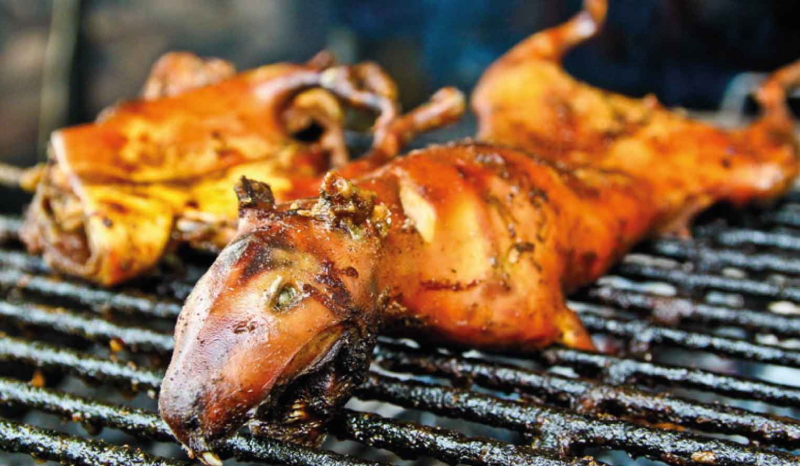 Guinea Pig | A pet or a dish?
When I have eaten Guinea Pig with guests I have witnessed many different reactions. From delight through surprise to someone fainting at the table! There are many ways that this small animal can be presented to tourists, either for the shock factor or to make it less like you are eating a household pet. But for locals in the countryside, it usually comes on a stick, like a guinea pig skewer. Read our Blog on the subject here.